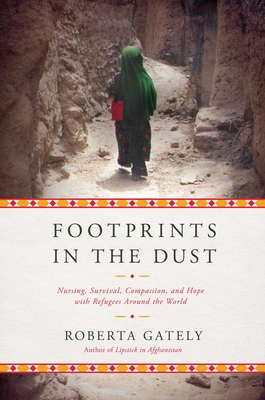 Footprints in the Dust
Nursing, Survival, Compassion, and Hope with Refugees Around the World
Hardcover

* Individual store prices may vary.
Other Editions of This Title:
Digital Audiobook (2/17/2020)
MP3 CD (2/18/2020)
Compact Disc (2/18/2020)
Description
The acclaimed author of Lipstick in Afghanistan weaves together the unforgettable stories of the people she helped heal in some of the most troubled places on Earth in a gripping memoir that celebrates our shared humanity.

Roberta Gately is a nurse and humanitarian aid worker who has served in war zones ranging from Africa to Afghanistan aiding refugees. Just the word refugee sparks conversation and fuel emotion. There are more than twenty-two million refugees worldwide and another sixty-five million who have been forcibly displaced. But who are these people? Images filter into our consciousness via dramatic photographs—but these photos only offer a glimpse into their stories. Footprints in the Dust aims to share the real stories of refugees around the world in hopes of revealing the truth about their experience.

As a young ER nurse in Boston, Roberta was stopped cold by stark images of big-bellied babies with empty haunting stares in the news. She called the aid organization featured in the news story and within two months, she was on her way. Roberta would soon learn that world into which millions of children around the globe were born was fraught with unspeakable horrors. The only certainties for so many of these children were, and remain to this day—disease and devastating injury.

Footprints in the Dust reveals the humanity behind the headlines, beginning where the newscasters end their reports. The people we meet within this riveting book are neither all saints nor all sinners—and impossible to forget.
Praise For Footprints in the Dust: Nursing, Survival, Compassion, and Hope with Refugees Around the World…
"Roberta Gately calls herself nurse, a humanitarian aid worker, and a writer. To that list I would add hero. Her willingness to step outside herself, to see and feel the pain of others is as inspiring as it is admirable. Gately nimbly uses tools of a novelist to tell this story, and as a result, the people she writes about spring fully to life in our imaginations. Here is a book filled with compassion, wisdom and yes, grace. Read it and weep."
— Yona Zeldis McDonough, author of 'The House on Primrose Pond'

"In her exquisite memoir, Gately recalls her many years of providing aid to refugees in Sudan, Afghanistan, and other conflict-ridden areas of the world. Footprints in the Dust is a life-affirming book that opened my eyes to new truths and filled me with hope and joy."
— Camille Pagán, bestselling author of 'Woman Last Seen in Her Thirties'

"Roberta Gately's book "Footprints in the Dust" is a powerful and deeply affecting memoir that chronicles her journey as a nurse in war-torn areas like Sudan and Afghanistan. With rich, visual detail Gately brings to life the struggles of refugees and their journey for a better life. Gately is not only a brave and selfless humanitarian, she is also a gifted story-teller. "Footprints in the Dust" is an important and eye-opening read."
— Alyson Richman, internationally bestselling author of "The Lost Wife"

"Gately's story puts you right into the experience of aide workers and refugees, while it opens your eyes to the truth of what is happening in our world. With heart, compassion, and truth, Roberta's story inspires, uplifts, and shows how one person can be a hero to many in need."
— Marci Nault, bestselling author of "The Lake House"

"In this honest account, Gately introduces the harsh realities of life as an aid worker, along with the disappointment of not being able to help everyone in need. A must-read for anyone concerned with the plight of refugees—and that should be all of us."
— Library Journal

"A powerful memoir. Compassionate, insightful, and honest, Gately's inspiring story is a timely reminder of the bonds we share, those that make us human and far more alike than different."
— Shelf Awareness

"Roberta Gately's poignant, gripping memoir is a timely and inspiring tale of a big heart in a broken world. Chronicling her years as a humanitarian aid worker in the most desperate corners of the globe, Footprints in the Dust is an absolute must-read. Gately reminds us of the beauty and importance of a selfless life. Her experiences tending to and befriending the world's forgotten call us to compassion and significance, and her perspective on the plight of refugees is both exceptional and inspiring."
— Nicole Baart, co-founder of One Body One Hope

"Gately tells a great story, so we taste the dust and instant coffee, smell the latrines, and miss the wine and pizza right along with her. And even at the worst of times, we're reminded of both beauty and humanity; our narrator's positive warmth and belief in basic goodness always shine through."
— Carol Cronin, author of OLIVER'S SURPRISE

"From Afghanistan to Africa, the global plight of refugees springs to life from the pages of Roberta Gately's latest memoir, Footprints in the Dust. With captivating detail, grace and humility, Gately reminds us all what it means to selflessly love and care for our fellow man."
— Kristen Harnisch, International bestselling author of 'The Vintner's Daughter' and 'The California Wife'

"Roberta Gately writes well and from the heart. She has given us a story of compassion, tenderness, and toughness in places that seem far, far away, but where mercy and kindness are timeless."
— Evan Thomas, author of IKE's BLUFF and BEING NIXON
Pegasus Books, 9781681778648, 352pp.
Publication Date: October 2, 2018
About the Author
A nurse, humanitarian aid worker, and writer, Roberta Gately has served in war zones around the world. She has written on the subject of refugees for the Journal of Emergency Nursing and the BBC World News Online. She speaks regularly on the plight of the world's refugees and displaced and now lives near Boston, Massachusetts.
or
Not Currently Available for Direct Purchase