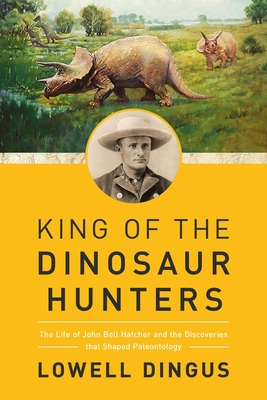 King of the Dinosaur Hunters
The Life of John Bell Hatcher and the Discoveries that Shaped Paleontology
Hardcover

* Individual store prices may vary.
Other Editions of This Title:
Paperback (10/13/2020)
Description
The story of the extraordinary adventures behind the man who has discovered some of the amazing wonders of natural history.

Every year millions of museum visitors marvel at the skeletons of dinosaurs and other prehistoric creatures discovered by John Bell Hatcher whose life is every bit as fascinating as the mighty bones and fossils he unearthed.

Hatcher helped discover and mount much of the Carnegie Museum's world famous, 150 million-year-old skeleton of Diplodocus, whose skeleton has captivated our collective imaginations for over a century. But that wasn't all Hatcher discovered. During a now legendary collecting campaign in Wyoming, Hatcher discovered a 66 million-year-old horned dinosaur, Torosaurus, as well as the first scientifically significant set of skeletons from its evolutionary cousin, Triceratops. Refusing to restrict his talents to enormous dinosaurs, he also discovered the first significant sample of mammal teeth from our relatives that lived 66 million years ago. The teeth might have been minute, but this extraordinary discovery filled a key gap in humanity's own evolutionary history.

Nearly one hundred and twenty-five years after Hatcher's monumental "hunts" ended, acclaimed paleontologist Lowell Dingus invites us to revisit Hatcher's captivating expeditions and marvel at this real-life Indiana Jones and the vital role he played in our understanding of paleontology.
Praise For King of the Dinosaur Hunters: The Life of John Bell Hatcher and the Discoveries that Shaped Paleontology…
"Palaeontologist Lowell Dingus exhaustively tracks Hatcher's short but storied life, from early work for luminaries such as Othniel Charles Marsh to the astounding digs in fossil hotspots from Kansas to Patagonia that studded Hatcher's starry scientific trajectory."
— Nature Magazine

"From a research associate at the American Museum of Natural History, an exhaustive biography of an adventurous bone hunter, a leading figure in the heroic age of American paleontology. There is no lack of fascinating anecdotes. Will interest paleontology buffs."
— Kirkus Reviews

"Gives paleontology enthusiasts a sense of the challenges involved in 19th-century fossil hunting."
— Publishers Weekly

"Readers learn of the great hardships of late-nineteenth-century paleontology and where to see Hatcher's mounted dinosaurs today."
— Booklist

"Fascinating. An excellent new science ­biography that will be popular with readers who already have an interest in paleontology or those who would like to develop one."
— Library Journal

"Brilliant. A must-read for anyone interested in dinosaurs, natural history, or discovery."
— Patch
Pegasus Books, 9781681778655, 568pp.
Publication Date: December 4, 2018
About the Author
Lowell Dingus, Ph.D., is a research associate at the American Museum of Natural History in New York as well as at the Natural History Museum of Los Angeles County. He has directed numerous significant fossil exhibits and has led various paleontological expeditions around the world, including the Patagonian excavation that uncovered the first fossilized skin from an embryonic dinosaur. He has coauthored several books, including Walking on Eggs and The Mistaken Extinction. Lowell lives in New York City.
or
Not Currently Available for Direct Purchase