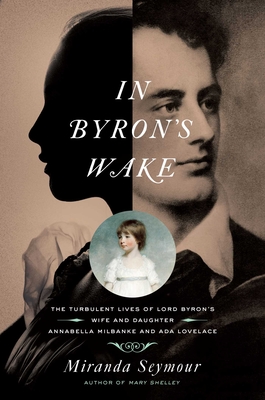 In Byron's Wake
The Turbulent Lives of Lord Byron's Wife and Daughter: Annabella Milbanke and Ada Lovelace
Hardcover

* Individual store prices may vary.
Other Editions of This Title:
Paperback (11/10/2020)
MP3 CD (6/16/2020)
Description
A masterful portrait of two remarkable women, revealing how two turbulent lives were always haunted by the dangerously enchanting, quicksilver spirit of that extraordinary father whom Ada never knew: Lord Byron.

In 1815, the clever, courted, and cherished Annabella Milbanke married the notorious and brilliant Lord Byron. Just one year later, she fled, taking with her their baby daughter, the future Ada Lovelace. Byron himself escaped into exile and died as a revolutionary hero in 1824, aged 36. The one thing he had asked his wife to do was to make sure that their daughter never became a poet.

Ada didn't. Brought up by a mother who became one of the most progressive reformers of Victorian England, Byron's little girl was introduced to mathematics as a means of calming her wild spirits. Educated by some of the most learned minds in England, she combined that scholarly discipline with a rebellious heart and a visionary imagination. As a child invalid, Ada dreamed of building a steam-driven flying horse. As an exuberant and boldly unconventional young woman, she amplified her explanations of Charles Babbage's unbuilt calculating engine to predict—as nobody would do for another century—the dawn of the modern computer age. When Ada died—like her father, she was only 36—great things seemed still to lie ahead for her as a passionate astronomer. Even while mired in debt from gambling and crippled by cancer, she was frenetically employing Faraday's experiments with light refraction to explore the analysis of distant stars.

Drawing on fascinating new material, Seymour reveals the ways in which Byron, long after his death, continued to shape the lives and reputations both of his wife and his daughter. During her life, Lady Byron was praised as a paragon of virtue; within ten years of her death, she was vilified as a disgrace to her sex. Well over a hundred years later, Annabella Milbanke is still perceived as a prudish wife and cruelly controlling mother. But her hidden devotion to Byron and her tender ambitions for his mercurial, brilliant daughter reveal a deeply complex but unexpectedly sympathetic personality.

Miranda Seymour has written a masterful portrait of two remarkable women, revealing how two turbulent lives were often governed and always haunted by the dangerously enchanting, quicksilver spirit of that extraordinary father whom Ada never knew.
Praise For In Byron's Wake: The Turbulent Lives of Lord Byron's Wife and Daughter: Annabella Milbanke and Ada Lovelace…
"A rich narrative. Seymour is clear-eyed but gentle, ably redeeming a steely, resourceful woman from her decades as a 'humorless despot."
— New York Times Book Review

"Meticulously researched. A skilled and experienced biographer, Seymour weaves her way through cowboy curtains of rumor and gossip, showing how tabloid intrusions are nothing new, privacy has always been won at a price, and reputation—the judgment of the public—remains a slippery, fragile thing. The combination of pure mathematics and agonized personal passions gives Seymour's book an arresting power."
— New York Review of Books

"In Byron's Wake—written with undisguised relish by British biographer and critic Miranda Seymour—offers compelling accounts of both Ada and her mother, Annabella. Neither knew Byron for long. And yet, as Ms. Seymour convincingly argues, the dazzling, unstable poet would remain present, in various ways, for the rest of both women's lives."
— Wall Street Journal

"In this splendid dual biography of Lord Byron's wife and daughter, Seymour brings these two brilliant, complex women to vivid life. While remaining historically rigorous, Seymour's narrative reads like a superb, page-turning novel."
— Publishers Weekly (starred)

"The tale of one of the most disastrous marriages in English literary history—and how it reverberated through generations to come. Seymour's great achievement is the resourcefulness and diligence she brings to both Annabella and Ada, complex figures who alternately invite and test readers' sympathies. Their inner and outer lives—along with those of dozens of others who populate this tragic farce—are told with singular narrative skill. A top-notch biography."
— Kirkus Reviews

"We live in an age of celebrity worship, but Seymour's new book shows that obsession with the rich and famous is nothing new. Seymour charts the shoals of sex and class both women navigated as they pursued their dreams and aspirations. They were an extraordinary mother-daughter pair, and Seymour tells their story with wit, smarts, and insight."
— Booklist (starred)

"Miranda Seymour puts everything straight in this magnificent, highly readable double biography, which brings these two driven, complicated women vividly to life. In Seymour's hands, Annabella's pioneering work at last assumes the status it deserves. Her humanity shines through. Ada's own short life was colorful, chaotic and bedevilled by illness. This is a very fine book. Written with warmth, panache and conviction, its formidable research is lightly worn."
— The Financial Times

"What makes In Byron's Wake worth reading is its account of how reputation and public image worked in early Victorian England, particularly for women, and how little this minefield has changed despite the technological advances Ada's work predicted."
— Slate

"A masterful portrait. Miranda Seymour is a marvellous storyteller. Seymour's book is hugely entertaining as well as formidably researched, and should not be missed."
— The Sunday Times (London)

"As Miranda Seymour writes in this gripping saga of a double-biography, the pretty 20-year-old Annabella Milbanke, [who] fell head over heels in love with mad, bad and dangerous Lord Byron, "her heart was obstinately set upon the reformation of a rake.""
— The Daily Mail (Book of the Week)

"There are difficult men, and then there is Lord Byron. The aim of Miranda Seymour's new book is to put Byron's wife, Annabella Milbanke, and their increasingly famous daughter, Ada Lovelace, center stage. Not only were his wife and child still dealing with the rumours of cruelty, incest and sodomy—a then illegal activity which, Seymour, a wonderful writer, speculates, his young wife may have enjoyed—long after his death in 1824; they remained, in emotionally complex ways, in his thrall all their lives."
— The Observer (UK) (Book of the Day)

"Vastly enjoyable. Brilliant, ebullient, eccentric, vivacious, egocentric and oddly dressed, Ada had her mother's discipline and her father's volatility."
— The Literary Review [UK]

"It's more than 160 years since the death of the computer pioneer Ada Lovelace, credited with everything from the invention of the CD to the foundation of Silicon Valley. Miranda Seymour agrees that it is not Ada Lovelace's skills as a mathematician that matter, but rather her visionary words, one hundred years before the birth of electronic computers, about "a new, a vast and a powerful language." In her ambitious dual biography of Ada and her mother Lady Byron, the power of Lovelace's imagination and her belief in a "poetry of mathematics" is seen as a direct inheritance from Ada's father Lord Byron."
— The Spectator [UK]
Pegasus Books, 9781681778723, 568pp.
Publication Date: November 6, 2018
About the Author
Miranda Seymour's previous books include Thrumpton Hall, A Memoir of Life in My Father's House (NYTBR Editor's Choice, winner of the 2008 PEN/Ackerley Award); Mary Shelley (Grove), Robert Graves: Life on the Edge (Holt); Ottoline Morrell: Life on a Grand Scale (FSG). She lives in England.
or
Not Currently Available for Direct Purchase