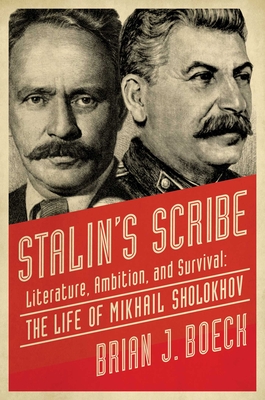 Stalin's Scribe
Literature, Ambition, and Survival: The Life of Mikhail Sholokhov
Hardcover

* Individual store prices may vary.
Other Editions of This Title:
Paperback (5/12/2020)
Description
A masterful and definitive biography of one of the most misunderstood and controversial writers in Russian literature.

Mikhail Sholokhov is arguably one of the most contentious recipients of the Nobel Prize in literature in history. As a young man, Sholokhov's epic novel, Quiet Don, became an unprecedented overnight success.

Stalin's Scribe is the first biography of a man who was once one of the Soviet Union's most prominent political figures. Thanks to the opening of Russia's archives, Brian Boeck discovers that Sholokhov's official Soviet biography is actually a tangled web of legends, half-truths, and contradictions. Boeck examines the complex connection between an author and a dictator, revealing how a Stalinist courtier became an ideological acrobat and consummate politician in order to stay in favor and remain relevant after the dictator's death.

Stalin's Scribe is remarkable biography that both reinforces and clashes with our understanding of the Soviet system. It reveals a Sholokhov who is bold, uncompromising, and sympathetic—and reconciles him with the vindictive and mean-spirited man described in so many accounts of late Soviet history.

Shockingly, at the height of the terror, which claimed over a million lives, Sholokhov became a member of the most minuscule subset of the Soviet Union's population—the handful of individuals whom Stalin personally intervened to save.
Praise For Stalin's Scribe: Literature, Ambition, and Survival: The Life of Mikhail Sholokhov…
"A provocative and sympathetic new biography. No small achievement."
— Washington Post

"[Stalin's Scribe] tries to explain how Sholokhov lost the conscience he once had. Mr. Boeck observes insightfully that faking one's accomplishments and constructing a false identity were hardly offenses unique to Sholokhov."
— Wall Street Journal

"Boeck relates with Dostoyevskian verisimilitude the psychological agonies Sholokhov must have endured at the time. Sholokhov's struggle to stay true to his vision in an atmosphere of blinding darkness is the theme of Boeck's riveting political biography. To his great credit, Boeck himself is never blind to Sholokhov's profound flaws or to the fact that his struggle was largely doomed from the start. Insightful and compelling."
— Los Angeles Review of Books

"Boeck displays his wide range of knowledge of the Soviet Union and delivers an insightful, gripping, squirm-inducing portrait of a great author who loyally served his government—perhaps too loyally."
— Kirkus Reviews

"Boeck paints a nuanced portrait in this literary biography of a Nobel Prize–winning Russian novelist and accused (but exonerated) plagiarist. Boeck's portrayal of his subject's international ill-fame, habit of hiding his emotions, clashes with Stalin's successor Khrushchev, and drinking bouts make this a deeply engaging take on an important literary figure."
— Publishers Weekly (starred)

"Excellent. Boeck has written more than a biography of a single writer; he also grants us unexpected insights into the minds of two of the most important Soviet leaders. I hope that Boeck's book will help bring back our attention to a remarkable novel."
— Robert Chandler, The Financial Times

"An important and stimulating book."
— The Russian Review
Pegasus Books, 9781681778747, 416pp.
Publication Date: February 5, 2019
About the Author
Brian J. Boeck holds a Ph.D. in Russian history from Harvard University and have taught Russian and Soviet history for over a decade at DePaul University. He is the author of Imperial Boundaries (Cambridge) and lives in Chicago, Illinois.
or
Not Currently Available for Direct Purchase