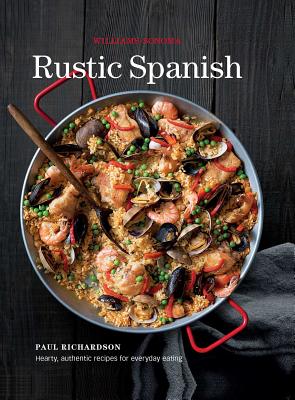 Rustic Spanish (Williams-Sonoma)
Simple, Authentic Recipes for Everyday Cooking
Hardcover

* Individual store prices may vary.
Description
Featuring more than 100 easy-to-follow and delicious recipes, this book delivers authentic Spanish cuisine to home cooks everywhere!

Love the delicious, made-for-sharing native cuisine of Spain? Rustic Spanish presents a robust collection of authentic Spanish dishes, including both traditional favorites and contemporary fare, along with suggested wine pairings and ingredient guides. Six comprehensive chapters are filled with a diverse range of beloved Spanish fare, and accompanied by beautiful and descriptive full-color photographs and illustrations.

Chapter 1: Starters Mixed Tapas, Patatas Bravas, Grilled Spring Onions with Romesco Sauce, Piquillo Peppers Stuffed with Salt Cod Brandada, Cádiz-Style Shrimp Fritters, Moorish-Spiced Pork Kebabs, Country-Style Pâté of Pork Liver, Bocadillos with Cheese, Anchovies & Peppers, Catalan-Style Flatbreads

Chapter 2: Soups & Salads Butternut Squash Soup with Chorizo & Pimentón Croutons, Cold Tomato & Garlic Soup (salmorejo), Basque Leek & Potato Stew, Castilian Garlic Soup, Spanish Broth with Fideo Noodles, Mallorcan Summer Salad , Ensalada Mixta Potato Salad with Lemon Mojo

Chapter 3: Eggs, Pastas, Rice & More Migas, Huevos Casados ("married eggs"), Flamenco-Style Eggs, Tortilla Española, Arroz a Banda (rice with fish & potatoes), Vegetable Paella, Chicken & Shellfish Paella, Spanish Noodles with Fish, Clams & Shrimp, Ravioli Stuffed with Torta del Casar Cheese

Chapter 4: Seafood, Poultry & Meat Trout Stuffed with Ham, White Fish & Clams in Salsa Verde, Catalan-Style Stuffed Squid , Turkey & Pine-Nut Meatballs in Saffron Broth, Chicken in Tomato Sauce, Pork Tenderloin with Prunes & Port Wine, Fresh Pork Sausages with White Beans & Allioli, Braised Oxtails, Braised Beef with Mushrooms

Chapter 5: Sides Swiss Chard with Raisins & Pine Nuts, Artichokes with Almond Sauce, Oven-Roasted Wild Mushrooms with Garlic & Parsley, Menestra (a sautéed vegetable medley), Cabbage & Potato Trinxat (served with fried pancetta), Mallorcan Vegetable Bake, Patatas a la Importancia, La Rioja–Style Potatoes, Empanada with Swiss Chard & Chorizo

Chapter 6: Sweets & Drinks Watermelon Ice, Basque Almond Cookies, Leche Frita ("fried milk"—truly custard), Spanish Fruit Salad, Turrón Nougat Ice Cream, Manchego Cheese Flans, Crema Catalana, Gin & Tonic Sorbet, Spanish Hot Chocolate, Horchata, Sangría, Caramel Flan

Additional sections include Basic Recipes and Spanish Pantry staples. With Rustic Spanish you can now experience the bold flavors of Spain without leaving your kitchen
Weldon Owen, 9781681881034, 192pp.
Publication Date: October 18, 2016
About the Author
Paul Richardson is a British food and travel writer and journalist, very closely associated with Spain and its culture. He worked as a journalist in a range of communications media in London, such as the magazines Taste and Wine Magazine, and The Evening Standard newspaper.

In 1991 he decided to live in Spain. He spent the whole of the 1990s in the inland part of the island of Ibiza (Balearic Islands), enjoying the countryside. In 2000 he acquired a small estate-farm in the province of Cáceres (in the region of Extremadura, in the center-west of Spain, bordering with Portugal) where he lives today. He is the author of various books, including A Late Dinner, Discovering the Food of Spain, Williams-Sonoma Foods of the World: Barcelona, and Indulgence. He regularly publishes articles about food and travel in Spain in publications like The Guardian and Spain Gourmetour.