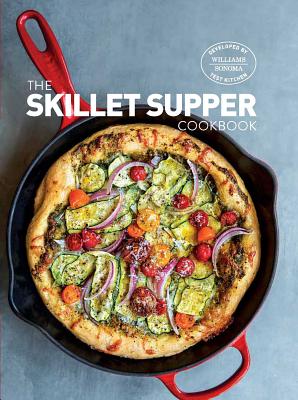 The Skillet Suppers Cookbook (Hardcover)
Weldon Owen, 9781681881362, 56pp.
Publication Date: February 21, 2017
* Individual store prices may vary.
Description
This essential book shows how the creative use of a single pan in the kitchen can lead to delicious diversity at the table. The Skillet Supper Cookbook features 22 recipes for healthy and wholesome meals that can be made in one simple skillet. An easy primer describes the particular benefits of the various skillet materials and finishes, and a collection of quick tips assists in their care and upkeep.

Creative recipes featuring a range of diverse ingredients will help you make the most of your skillet, and leave you with minimal dishes to clean! Here you'll find recipes for luscious roasted chicken, gooey grilled cheese sandwiches, elegantly steamed fish, perfect steak au poivre, and more—all sure to become your own kitchen classics. There are also plenty of dishes you might not expect would come from a skillet, such as pizza, lasagna and enchiladas.

Recipes include: Crispy chicken thighs with fennel and lemon, chicken and cheese enchiladas, one-pan sausage and beef lasagna, stir-fried beef with bell peppers and basil, seven-layer queso and beef dip, spicy pork lettuce cups, baked eggs in tomato sauce, fried rice with shrimp and broccoli, one-pot penne pasta with sundried tomatoes and burrata, and much more!

The recipes in The Skillet Supper Cookbook demonstrate the ease and versatility with which skillets can help you deliver delicious meals time and time again.
About the Author
Since its founding by Chuck Williams in 1956, the Williams-Sonoma brand has been bringing people together around food. Williams-Sonoma is a leading specialty retailer of high-quality products for the kitchen and home, providing world-class service and an engaging customer experience.

The Williams-Sonoma Test Kitchen spearheads the development of culinary content for the brand's catalog, website, blog, social media programs, cooking schools, and special events.