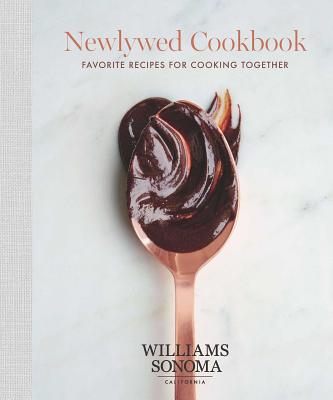 The Newlywed Cookbook
Favorite Recipes for Cooking Together
Hardcover

* Individual store prices may vary.
Description
If there is only one book to include in a couple's kitchen library the first few years after their wedding, the Newlywed Cookbook is it. Designed for both novice and expert cooks alike, it includes inspiring ideas for everything from weeknight suppers to Saturday dinner parties with friends and cozy breakfast in bed. With nearly 200 contemporary, easy-to-follow, seasonal recipes, this essential volume will help make every moment shared in the kitchen special.

When most people tie the knot, they probably already have some sense of their way around a kitchen. What makes the newlywed kitchen unique is the way you experience it together and what it says about you as a couple. The Newlywed Cookbook aims to help today's couples inhabit their kitchen. The recipes are infused with global flavors, seasonal ingredients, some retro nostalgia, and lots of flexibility—most can be customized to suit your particular tastes.

Introduction includes recommendations for cooking for two, cooking for a crowd, setting the table and setting up the kitchen, as well as sections about wine and beer. Recipes are divided by Breakfast & Brunch, Starters & Snacks, Soups & Salads, Pasta, Pizza & Risotto, Main Courses, Side Dishes and Desserts, along with Kitchen Essentials, Essential Tools and Basic Recipes. Each recipe is accompanied by step by step instructions and full-color photographs to help guide you through the process.

Recipe highlights include Glazed Doughnuts, Raised Waffles with Strawberry-Rhubarb Compote, California Breakfast Bowls, Tomato & Feta Tart, Crab Cakes with Lemon Aioli, Pork Ramen with Bean Sprouts, Chicken Tortilla & Lime Soup, Grain Salads, Pizza Four Ways, Ravioli with Bitter Greens & Toasted Walnut Butter, White Lasagna with Mushrooms & Prosciutto, Lemongrass Shrimp Skewers, Korean Short Ribs, Bacon Wrapped Filet Mignons, Cheese Soufflé, Caramelized Brussels Sprouts, Scalloped Potatoes with Leeks & Gruyère, Individual Tiramisus with Espresso & Rum, Salted Caramel Apple Pie, Fresh Lemon Mousse, Coffee Crunch Ice Cream, Peanut Butter and Sea Salt Cookies, and many more!

Nominated for a 2018 IACP (International Association of Culinary Professionals) Cookbook Award!
Praise For The Newlywed Cookbook: Favorite Recipes for Cooking Together…
"The recipes are tempting, approachable, and use ingredients that are easy to source. The book is ideal for 'newlyweds' who want to team up in the kitchen. Yet, it is also cookbook for anyone who wants to partner with their bestie, husband of 40 years, sibling or a child to cook up some marvelous foods. The book gives you everything you need to know. It will have you cooking with fresh, seasonal ingredients to create colorful, flavorful meals while you enjoy time together."
— Broadway World (Food & Wine)
Weldon Owen, 9781681881416, 256pp.
Publication Date: January 9, 2018
About the Author
Since its founding by Chuck Williams in 1956, the Williams Sonoma brand has been bringing people together around food. Williams-Sonoma is a leading specialty retailer of high-quality products for the kitchen and home, providing world-class service and an engaging customer experience.