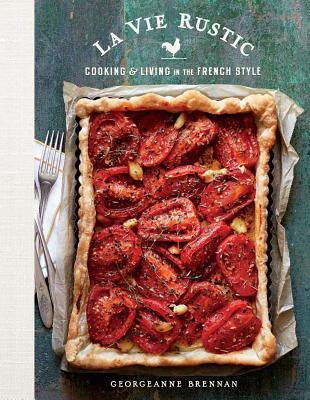 La Vie Rustic (Hardcover)
Cooking and Living in the French Style
Weldon Owen, 9781681881430, 292pp.
Publication Date: March 7, 2017
* Individual store prices may vary.
Description
James Beard Award winning author Georgeanne Brennan shares a lifetime of French farmhouse cooking—combining ingredients from forest, field, sea, and stream—in casual meals for friends and family. Following an approach to daily cooking that's rooted firmly in the French tradition, Brennan crafts recipes driven by the seasons and the outdoors. Paired with lovely lifestyle photography, this inspiring cookbook weaves together her personal experience, stories, and tips about how to create a sustainable life—one that celebrates the relationship between the land and the table, and among food, family, and friends—no matter where you reside.

The Potager: Year-Round Vegetables: green garlic and new potato soup; charred artichokes with fresh herb dipping sauce; zucchini and pine nut fritters; fennel and chicken braised with lemon; savory chard and raisin tart; sweet pepper and shelling bean Gratin; parsnip soup with toasted almonds; winter beignets with sauce verde

The Orchard: Fruits & Nuts: homecured olives, cherry and onion chutney for seared duck breast, chestnut and pork stew, pear, arugula and shaved parmesan salad, mulberry and pistachio tart, chestnut cream profiteroles

The Barnyard: Cows, Goats, Sheep, Pigs, Chickens, Ducks & Rabbits: foie gras terrine, chicken liver pâté, shredded duck confit and cornichon buns, beef braised in red wine and bone marrow, roast chicken with potatoes and droppings, stuffed breast of lamb-Michoui style, frozen meringues and fruit cream

The Forest & Fields: Wild Things : snail stuffed mushroom, wild mushroom soup, foraged greens and prosciutto salad, quail with juniper glaze and shallots, fresh bay leaves skewered with lamb and peppers, Crème Brûlée with Black Truffles, lavender pepper goat cheese.

Water: Fish & Shellfish: smoked trout pate, thin sliced raw scallops with wild fennel pollen, pot de poisson, Moules Gratinée, sea bass with lemon verbenas buerre blanc, sea urchin sauce

With lovely recipes and tips to sustainable life, La Vie Rustic allows you to live the French lifestyle in your home!
About the Author
Georgeanne Brennan is a James Beard award-winning cookbook author and journalist. She and her work have been featured in such publications as the Wall Street Journal, Gourmet, Food and Wine, San Francisco Chronicle, Edible magazines and elsewhere. Her books have been translated into multiple languages, including her memoir, A Pig in Provence. In 2014 she founded La Vie Rustic: Sustainable Living in the French Style, a product line and on-line store. She lives in Northern California and travels several times a year to her long time home in Provence where she once lived, keeping goats and pigs and making and selling goats milk cheese. www.lavierustic.com
Praise For La Vie Rustic: Cooking and Living in the French Style…
"James Beard Award winning food writer and recipe developer Georgeanne Brennan turns to her adopted home of Provence, France for her latest collection of dishes you'll want to cook immediately."

"If you're looking for something more advanced than a baguette with butter or a glass of fine wine, allow us to introduce you to James Beard Award winner Georgeanne Brennan."