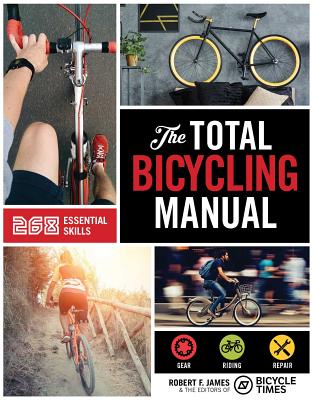 The Total Bicycling Manual
268 Tips for Two-Wheeled Fun
Paperback

* Individual store prices may vary.
Description
Everything you need for enjoying the sport of cycling, from finding your perfect bike to customizing your ride without spending a fortune, learning to do your own repairs and maintenance, ride with confidence in traffic or on any road or trail, to participating in races, cyclocross, and other biking activities.



You never forget how to ride a bike . . . but do you know how to get a great deal on a used bike (and avoid getting ripped off!), set up your commuter bike for optimal safety (without sacrificing fun), plan the perfect family ride for kids of all ages, and train for your first endurance ride? Bicycle Times magazine reaches hundreds of thousands of "everyday cyclists"—riders who care more about having a great ride than spending a year's salary on a tricked-out racing bike. Their mission is to make cycling fun and accessible for everyone . . . families, commuters, travelers, and weekend warriors included.

This book is the one practical manual every cyclist should have—right next to the toolbox or stashed in a pannier. A quick but comprehensive intro chapter on finding the right bike for every need (and why so many cyclists are sure they need one of each!), which includes detailed information on what to look for in a new or used bike, when to pay a little more for components, and where you can economize creatively.

Filled with practical, wheels-on-the-ground tips, this book will make you a better rider, take you places you never thought you'd go, and make sure you never get stranded by the roadside without the tools or know-how to fix your ride.

Packaged in a durable, wipe-clean flexicover with metallic corner-guards, this practical manual withstands heavy-duty use indoors and out.

Cycling Basics
Choose the right Bike for You
Customize Your Ride
Your Helmet Can Save Your Life
Dress for Any Weather
Clipless Pedals and Cycling Shoes—Yes or No?
Understand the Drive Train
Give Me a Brake
Find a Fixie
Try an E-Bike
Ride the Road
Take to the Trails
Cruisers and Fat Bikes
Bikes for Kids

Riding Skills and Adventures
Fit Your Bike to Your Body
Make Simple Adjustments
Brake Confidently
Use Your Gears for Maximum Efficiency
Know the Rules of the Road
Use GPS and Fitness Apps
Bike for Fitness
Commute in Comfort
Ride a Bike in a Dress
Pedal in Any Shoes (Including Stilettos!)
Dominate Trail Rides
Get Off Road
Try Cyclocross
Get Around Town
Lock It Up
Seek Out a Velodrome
Try a Road Race
Train for Endurance Rides
Ride with the Family
Take a Bike Vacation
Ride in the Rain
Ride in Snow

Repair and Maintenance
Buy the Tools You Need
Do a Basic Tune-Up
Fix a Flat
Fix a Blowout
True a Wheel
Change a Bottom Bracket
Replace Brake Cables
Switch Out Your Brakes
Shim a Seat
Pimp Your Ride
Cut Down a Basket
Troubleshoot a Headset
Install Racks
Keep Everything Greased Up
Do Emergency Repairs
Pack a Touring Toolkit
Winterize Your Bike
Weldon Owen, 9781681881591, 240pp.
Publication Date: July 31, 2018
About the Author
Robert F. James is an endurance cyclist, retired U.S. Navy sailor, bicycle shop staffer, professor of literature, and professional writer. He has completed the Furnace Creek 508 ultramarathon bicycle race several times—a 508-mile ride in the heat of October through Death Valley and the Mojave Desert, as well as the AIDS/LifeCycle ride—a 7-day, 545-mile fund-raising ride from San Francisco to Los Angeles.


or
Not Currently Available for Direct Purchase