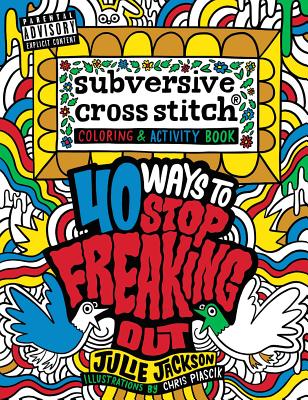 Subversive Cross Stitch Coloring and Activity Book
40 Ways to Stop Freaking Out
Paperback

* Individual store prices may vary.
Description
Bestselling creator of Subversive Cross Stitch Julie Jackson brings her unique brand of snark to the Subversive Cross Stitch Coloring and Activity Book, with 40 fun activities (for grown-ups only.) Bonus bookmark included!

For the first time, Julie Jackson's sassy cross-stitch designs are available in coloring book form. Julie doesn't hold back and neither should you. An adult activity book that collects her signature "charmingly disgruntled" patterns into the ultimate therapy--coloring pages--plus connect-the-dots, finish-the-doodle, and a host of other fun activities, this is the perfect opportunity to color your blues away and channel your inner badass with the Subversive Cross Stitch Coloring Book

Feeling overloaded and underwhelmed? Try a subversive activity instead of freaking out. Practice mindlessness while you color one of Julie's trademark cross-stitch designs (brilliantly reinterpreted by subversive illustrator Chris Piascik.) Or improve a bad mood with an in-your-face activity such as folding the "Flying F*ck" paper airplane or the handy Decision-Maker Cube. If it's kindness that gets you through the day, make an "Everyday Valentine" for someone who deserves it.

This book gives you permission to cut loose. This is not a book you put on the shelf and leave in perfect condition; it's meant to be wildly interactive. So color outside the lines, cut parts out, fold, and throw things—tear it up and make it your own! No one else brings the same frustrations and creative attitude to it that you do. Consider it your therapy project and an escape from the pressures of the day.

Most importantly, SHARE. Share the results with co-workers by adding your boss's face to a finger puppet. Unleash your inner futurist with the magic cat fortune-teller. Or color and tear out one of the illustrated phrases to hang at your desk and remind you to smile now and then.

Go ahead and turn your world upside down for a while. Release the therapeutic value of play and be the bad kid in class you always wanted to be. Color on the walls! There are no consequences here.

Embrace the delicious thrill of so-called "bad" words (no one is shocked anymore.) By coloring them in, you take away their power. And really, f*ck anyone who can't take a joke.

Above all, have fun! Tear it up!


Weldon Owen, 9781681881799, 80pp.
Publication Date: April 18, 2017
About the Author
In 2003, Julie Jackson created Subversive Cross Stitch, a bedrock of the modern craft movement that pairs old-fashioned samplers with snarky sentiments. She has authored two cross stitch books: "Subversive Cross Stitch: 50 F*cking Clever Designs For Your Sassy Side" (powerHouse Books, 2015) and "Subversive Cross Stitch: 33 Designs for Your Surly Side" (Chronicle Books, 2006), which was reprinted in a Dutch version in 2009. Her kits, cards, and other gift items bearing Subversive designs can be found online and in retail stores around the world. Kits, supplies, advice, and hundreds of PDF patterns can be found on her site, subversivecrossstitch.com.

Julie also created Kitty Wigs, an early contender in the online world of cat memes. Kitty Wigs has been featured in fashion layouts for Harper's Bazaar Japan and CosmoGirl; and on CNN's Anderson Cooper 360 and BBC's Graham Norton. Her book "Glamourpuss: The Enchanting World of Kitty Wigs", has been seen in People magazine, on Good Morning America, The Tonight Show, and even in the National Enquirer. The book is available in several languages and as a digital version.

Julie is a former columnist for Craft magazine, and a long-time copywriter/brainstormer for the kooky folks at Blue Q.


or
Not Currently Available for Direct Purchase