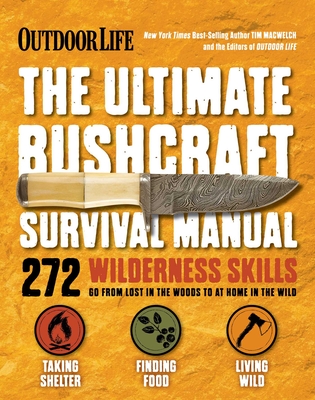 The Ultimate Bushcraft Survival Manual (Paperback)
Weldon Owen, 9781681882383, 224pp.
Publication Date: October 10, 2017
* Individual store prices may vary.
Description
What if you were dropped in the woods with little more than a knife, your wits, and the (hopefully warm) shirt on your back? Could you survive? If you'd read this book, the answer is yes!

Survival! It's one of our most primal fears, most basic needs. What do you do when everything is stripped away except your will to prevail? In this book, survival expert Tim MacWelch examines how native peoples around the world and throughout history have made their own shelter, weapons, tools, and more, and well as clever MacGuyver-esque ideas for using anything you might find in your pockets or pack. Whether your goal is to test yourself against nature, be prepared for any catastrophe, or learn more about traditional ways of survival, this is the one book you need.

Packaged in a durable, wipe-clean flexicover with metallic corner-guards, this practical manual withstands heavy-duty use indoors and out.

CHAPTER ONE: Bare Necessities - The stuff you need to survive short term wilderness emergencies (72 hours to one week)

The Survival Priorities (& why you need them) Shelter, water, fire, food, first aid and signaling distress
Tools of the Minimalist Knife, Axe and Saw - use and care; Clothing selection
Shelters Pick a safe shelter location; How to build Leaf huts, lean-tos, jungle platforms, thatched roof, log huts, wicki-ups, pit houses, and more (different homes for varied climates)
Water Gathering and Disinfection Finding springs, boiling w/ hot rocks, rain and precipitation collection, water storage, primitive filters, water from plants
Fire Tinder, Kindling, Fire Lays, Flint & Steel, Bow Drill, Hand Drill, Bamboo Fire Saw, Fire Plow, Pump Drill, and other friction methods
Signaling for Help and Self-Rescue How to signal and communicate w/ old school techniques; How and when to fight your way out

CHAPTER TWO: Finer Things - Skills and techniques to collect food, and live more comfortably in the wild (weeks to months)

Foraging for Wild Edible Plants How to identify and use wild plant foods; Recipes like our ancestors would have eaten
Trapping Ways to catch game with new and old school, low-tech traps
Primitive Fishing How to catch fish with thorns and other improvised tackle
Ancient Weapons Bow and arrow, spear, Spear thrower, Bola and sling, primitive forging of metal
Hunting Skills and game processing; 10 things to never do on a hunt
Primitive Tools How to make stone blades, knives, axes, stone drill bits, mallets and wedges for wood splitting, digging sticks
Hygiene Keeping clean; Natural toilet paper; Soap from plants; DIY latrine


CHAPTER THREE: Long Term Living - The skills of our ancestors and the things you'd need for long term primitive living (years)

Food Storage Drying, smoking, Food Caches, Freezing
Containers How to make several different basket styles; Bark containers; Wooden bowls; Soapstone bowls and pots; Primitive ceramics
Hides and Furs DIY buckskin, fur, rawhide and leather; Making clothes and outerwear (moccasins, mittens, hats, etc.)
Primitive Cooking Cook in the coals; Spits and skewers; Green stick grill; Rock for frying pan; Stone Ovens, Steam pit, Earth over (in-ground hearth system)
Tracking Man tracking and animal tracking
Natural Navigation How to find your way by using the stars, the landscape, the weather and many other methods
Wild Medicine Teas, compresses and poultices to help you heal
About the Author
Tim MacWelch is the author of the New York Times bestsellers Prepare for Anything, Hunting & Gathering, and How to Survive Anything. He is Outdoor Life magazine's survival blogger. He is also the founder and head instructor of Advanced Survival Training School, where he teaches ordinary people how to live closer to nature and how to use those skills in emergencies.