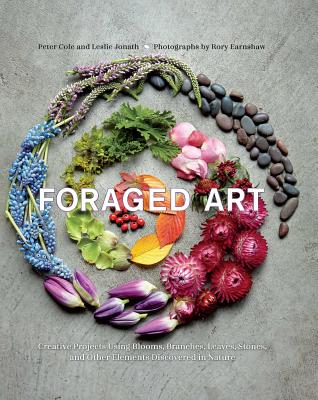 Foraged Art (Hardcover)
Creating Projects Using Blooms, Branches, Leaves, Stones, and Other Elements Discovered in Nature
Weldon Owen, 9781681882598, 144pp.
Publication Date: June 5, 2018
* Individual store prices may vary.
Description
In the spirit of land artists like Andy Goldsworthy, the book is as much about discovery as it is about creation. Leaves shaped like lips might inspire a face; an array of rocks might be become an eclectic mosaic; winter's first snow might be carved into glowing luminaria.

Whether you love to look for heart-shaped flowers or want to make a peacock made with flower petals, readers will find great inspiration and joy in Foraged Art.

Art, meditation, and nature meet in this adult focused activity book, with projects that take inspiration from the natural environment, using blooms, pods, branches, stones, and other natural elements. Divided into chapters by natural elements -- flowers, leaves, rocks and pods, and more, the book will encourage readers to forage and play outside using nature's seasonal art box. With quotes by artists on nature and creativity, the book is about making art from what you find and finding art in what you see.
About the Author
Peter Cole is an artist and maker who makes beautiful art in nature. In addition to carving the Mona Lisa into pumpkin, he has sculpted a bath-tub out of snow, and made Bilbao out of sand. A graduate of the San Francisco Art Institute, he is an avid collector of rocks, shells, bones, photographs, keys and other objects which he transforms into unusual art pieces. With his wife, he has been a long-time vendor at the Brooklyn flea. He is the author of many books about ephemeral art including Snowmen, Great Pumpkins, and Sandcastles.

Leslie Jonath is an author, a book packager and producer specializing in content for food, art, design, and children's projects. She is the author of many books including Snowmen, Everyone Loves Paris, Give Yourself A Gold Star and Love Found. She lives in San Francisco.
Praise For Foraged Art: Creating Projects Using Blooms, Branches, Leaves, Stones, and Other Elements Discovered in Nature…
"From creating spirals made of individual fern leaves, to sculpting leaf creatures- playfully designed with various leaves and tendrils of vines- to making "skirts" for trees with leaves arranged artfully around its base, creating foraged art becomes a creative adventure in which your only limitation is your imagination."
— Spirituality Health