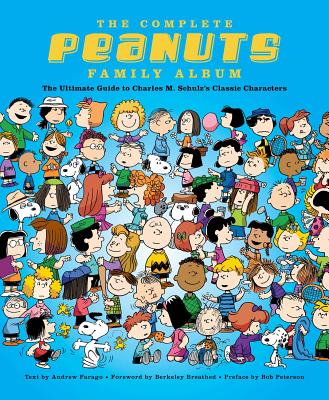 The Complete Peanuts Family Album (Hardcover)
The Ultimate Guide to Charles M. Schulz's Classic Characters
Weldon Owen, 9781681882925, 256pp.
Publication Date: October 31, 2017
* Individual store prices may vary.
Description
The first comprehensive collection of the beloved and bestselling Peanuts' 70+ characters. The Complete Peanuts Family Album covers the Peanuts universe of characters and icons. People around the world recognize Charlie Brown, Lucy, and Snoopy. And Peanuts enthusiasts know Peggy Jean, Roy, and Spike. But what about Shermy? Truffles? And who exactly is Floyd? The Complete Peanuts Family Album is the first detailed exploration of the entire Peanuts universe, from its most iconic personalities to its most obscure characters, as well as classic paraphernalia and events. With more than 700 charming and historic images, The Complete Peanuts Family Album will remind readers of all ages why happiness is a warm puppy. This character encyclopedia includes: ] All 70+ of Charles M. Schulz's beloved characters in strips across the decades
] First-appearance strips for each character
] Features on beloved Peanuts holidays, including Valentine's Day, Halloween, and Christmas
] Rare and never-before-seen art
] Official character sketches and model sheets
] Vintage memorabilia and collectibles

About the Author
Andrew Farago is the curator of San Francisco's Cartoon Art Museum and author of several award-winning books on comics and animation history. He lives in Berkeley, Calif., with his wife, author Shaenon K. Garrity, and their son, Robin. Berkeley Breathed is the Pulitzer Prize-winning creator of Bloom County, Outland, and Opus, comic strips which have appeared in more than 1,200 newspapers worldwide. He lives in Santa Barbara, Calif. Bob Peterson is a veteran story artist, screenwriter, director, and voice talent at Pixar. He was nominated for an Academy Award for Best Original Screenplay for Finding Nemo and Up. He lives in San Francisco.