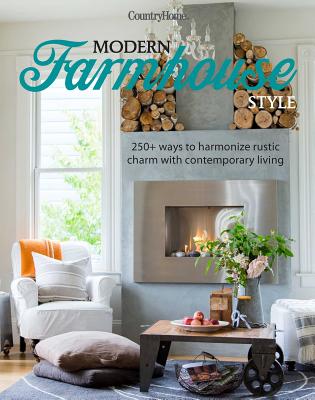 Modern Farmhouse Style
250+ Ways to Harmonize Rustic Charm with Contemporary Living
Hardcover

* Individual store prices may vary.
Description
Move over, shabby chic: The new farmhouse look is all about clean lines and modern shapes, paired with rustic textures and clever upcycled decor ideas from the country life. With Modern Farmhouse Style, you can now achieve that farmhouse aesthetic in your own home—no matter where you reside.

This collection of more than 250 gorgeous yet attainable farmhouse-inspired decor ideas, organizational tips, and DIY projects is everything you need to make your modern home perfectly rustic—or vice versa! With chapters on entryways, living spaces, kitchens, dining rooms, family rooms, bedrooms, bathrooms, and outdoor spaces, you'll learn how to "countrify" any area of your home so it's charming yet refined, homey yet chic. You'll learn how to select the proper mix of contemporary and rustic furniture, pick raw materials, build out unique DIY projects, and add attractive and inspired personal touches. Whether you're a city or a country dweller, Modern Farmhouse Style will bring the you the best of both worlds.



Chapters Include:

Entryways
Choose One Sculptural Accent
Use Hairpin Legs to Build Entryway Furniture
Have Fun with Entryway Paint
Reuse the Old Like New

Living Rooms
Start (and Display) Collections
Embrace the Power of Paint
Recast a Bird Cage into a Coffee Table
Let Original Features Shine

Kitchens
Seek Out Sleek Storage Options
Four Ways to Update an Island
Mount a Sophisticated Wooden Wine Rack
Reinterpret Historic Influences

Dining Rooms
Go for a Polished Palette
Update Farmhouse Imagery
Craft a Handsome Dining Room Table
Get Rustic Schoolhouse Charm

Family Rooms
Explore Cabin Chic
Assemble a Crate Coffee Table
Farmhouse Workspaces Four Ways
Update a Fireplace

Bedrooms
Update a Headboard Silhouette
Use Vintage Toys in Sweet Vignettes
Beautify a Dresser with Country Touches
Seek Out Handmade "Flaws"

Bathrooms
Bring in Natural Fibers
Embrace Courageous Decor
Welcome Brick to the Bath
Turn Tile Strategically

Outdoor Spaces
Salvage Outdoor Dining Sets
Make Modern Use of a Classic Barn
Illuminate the Garden Path
Create Restful Nooks
Weldon Owen, 9781681882956, 240pp.
Publication Date: January 9, 2018