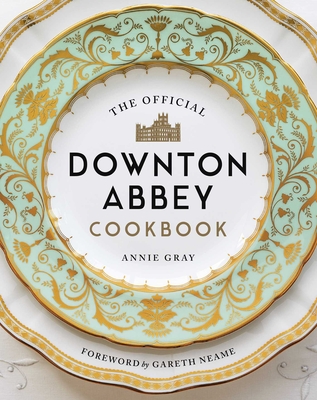 The Official Downton Abbey Cookbook (Downton Abbey Cookery)
Hardcover

* Individual store prices may vary.
Description
2020 IBPA Awards Winner!

The Official Downton Abbey Cookbook presents over 100 recipes that showcase the cookery and customs of the Crawley household—from upstairs dinner party centerpieces to downstairs puddings and pies—and bring an authentic slice of Downton Abbey to modern kitchens and Downton fans.
Whether adapted from original recipes of the period, replicated as seen or alluded to on screen, or typical of the time, all the recipes reflect the influences found on the
Downton Abbey
tables. Food historian Annie Gray gives a rich and fascinating insight into the background of the dishes that were popular between 1912 and 1926, when
Downton Abbey
is set —a period of tremendous change and conflict, as well as culinary development.
With a foreword by Gareth Neame, executive producer and co-creator of
Downton Abbey
, and featuring over 100 stunning color photographs,
The Downton Abbey Cookbook
also includes a special section on hosting
Downton
-themed dinner parties and presents stills from across the TV series as well as the latest film. Notes on the etiquette and customs of the times, quotes from the characters, and descriptions of the scenes in which the foods appear provide vivid context for the dishes.
The recipes are grouped by occasion, which include breakfast; luncheons and suppers; afternoon tea and garden parties; picnics, shoots and race meets; festivities; upstairs dinner; downstairs dinner; downstairs supper and tea; and the still room.
From the upstairs menu:
Cornish Pasties
Sausage Rolls
Oysters au Gratin
Chicken Vol-au-Vents
Cucumber Soup
Soul a la Florentine
Salmon Mousse
Quail and Watercress
Charlotte Russe
From the downstairs menu:
Toad-in-the-Hole
Beef Stew with Dumplings
Steak and Kidney Pie
Cauliflower Cheese
Rice Pudding
Jam and Custard Tarts
Gingerbread Cake
Summer Pudding
With these and more historic recipes—compelling to a contemporary palate and easy to replicate in today's kitchens—savor the rich traditions and flavors of
Downton Abbey
without end.
Praise For The Official Downton Abbey Cookbook (Downton Abbey Cookery)…
"With both of these books in your hands, you'll be able to have a complete evening at Downton in your own home..."
— Romper

"Nothing short of a bible for the serious fan, with every recipe mentioned in the show, plus dozens of others common for the period, sumptuously presented in spectacular fashion even the blessed Lady Mary would approve of, with gorgeous photos and context from author/food historian/show consultant Annie Gray"
— Chowhound

"The perfect way to recreate a little of that Highclere glamour in the comfort of your own home"
— Town & Country

"The volume is amply illustrated with stills from the TV production as well as snippets of dialogue, but Gray's thoughtful and informed prose elevates it from mere tie-in to a truly useful work of culinary history"
— Publisher's Weekly
Weldon Owen, 9781681883694, 272pp.
Publication Date: September 17, 2019
About the Author
Annie Gray is one of Britain's leading food historians. She holds degrees from the University of Oxford, as well as York and Liverpool, and is an honorary research associate at the University of York. She is the author of a culinary biography of Queen Victoria: The Greedy Queen, Eating with Victoria (2016), as well as Victory in the Kitchen: The Story of Churchill's Cook (2020), a biography of Georgina Landemare, Winston Churchill's longest serving cook. She is also the resident food historian in BBC Radio 4's popular food panel show, The Kitchen Cabinet, and has both presented and consulted for various British TV productions, including the recent Victoria and Albert: The Wedding (also shown on PBS), and The Sweetmakers. She is also a consultant for the Victorian Way/Mrs. Crocombe series for English Heritage on YouTube. She works generally as a consultant to the heritage industry on historic food and dining, and worked for many years as a costumed interpreter, leading the service wing team at the award-winning Audley End House (English Heritage). She is a huge fan of a proper suet pudding.