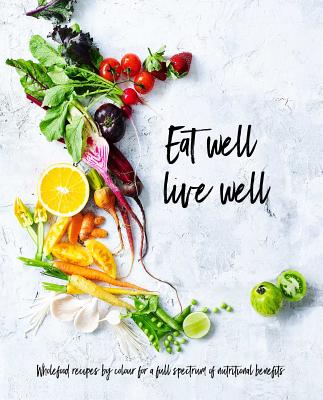 Eat Well, Live Well
Wholefood Recipes by Color for A Full Spectrum of Nutritional Benefits
Hardcover

* Individual store prices may vary.
Description
The five color groups of fruits and vegetables — orange, purple, green, white, and red — each have a unique set of health benefits. The fresh-tasting, innovative recipes in Eat Well, Live Well shows how eating well from a rainbow variety of plant foods every day gives your body all the essential nutrients it needs to live well.

A good plant-based diet can be transformative, contributing to mental acumen, healthy bodies, and disease protection. The color lent to fresh fruits and vegetables from phytochemicals is among the best indications of those nutritional qualities. Each of the five chapters in this beautifully photographed cookbook focuses on a single color of the plant-based spectrum, inspiring over 100 recipes for a varied diet rich in natural nutrients.

Chapters include:
• Orange: Papaya & Pickled Carrot Salad, Roast Pumpkin Dip with Spicy Chickpeas, Slow-Roasted Pork Loin with Peach & Rosemary Jelly, Ginger & Orange Filo Tart

• Purple: Grilled Eggplant Bruschetta with Hazelnut Skordalia, Fish and Black Bean Blue Corn Tacos with Pickled Red Onion, Honey Baked Plums & Grapes with Sweet Ricotta

• Green: Green Minestrone with Pesto, Pan-Fried Gnocchi with Green Tomato Sugo, Green Veggie Bibimbap Bowls, Kiwi & Basil Sherbit

• White: Miso-Roasted Whole Cauliflower; Chicken, Quinoa & Belgian Endive Salad; Crisp Fish Parcels with Lychee and Coconut Salad; Creamy Chicken Pies with Parsnip and Celery Root Mash

• Red: Tomato & Strawberry Gazpacho, Prawn Salad with Sriracha Tofu Dressing, Rhubarb-Glazed Chickens with Radicchio Slaw, Harissa Beef Filet with Almonds & Pomegranate
Weldon Owen, 9781681883786, 240pp.
Publication Date: January 9, 2018
About the Author
The Australian Women's Weekly Test Kitchen staff is lead by Editorial Food Director Pam Clark and includes a team of chefs, food editors, photographers and stylists who work hard to maintain a reputation for reliability and innovation and consistently respond to new and exciting food trends for their readers.