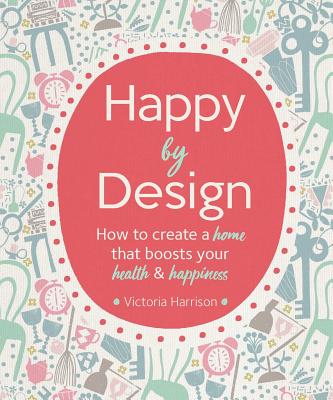 Happy by Design
How to create a home that boosts your health and happiness
Hardcover

* Individual store prices may vary.
Description
Invite health and happiness into the heart of your home with practical ideas for decor, organization, and mindfulness that will transform your living space—and create an uplifting atmosphere that looks after you from morning to night!

Happy by Design teaches us how we can actively improve our health and wellbeing through the way we design and regard every room in the house. From the paint color that's been named the happiest to the science of getting a good night's sleep, Happy by Design offers bite-sized and affordable design ideas that are accessible to all—from a young renter in an urban apartment to a busy family in their own home.

Drawing on advice from experts far and wide, Victoria Harrison's Happy Home Program helps everyone transform their living spaces and put personal wellbeing first in their homes and neighborhoods. With delightful illustrations and photos on every page, the program is easy to follow and packed with motivating tips and inspiration to help everyone live the happiest life possible. Happy by Design will help you breathe better with the top ten oxygenating houseplants, surround yourself with scents scientifically proven to brighten your mood, and—taking a page from the Danish concept of hygge—keep your home a clean yet cozy sanctuary, free of outside distractions. Discover these simple—but ultimately life-changing—steps.



Table of Contents

Introduction: The Happy Home Program
How to Grow Your Own Fresh Air
How to Decorate with the Happiest Color
Tidy Your Way to Happiness
Unlock the Secret to a Good Night's Sleep
Discover the Happiest Scents
Harness the Mood-Boosting Power of Flowers
Shine a Light on Wellbeing
How to Create a Cozy Retreat
Wish Happiness for Others
Unearth Happiness in the Garden
How to Be Smarter Than Your Smartphone
Weldon Owen, 9781681884158, 160pp.
Publication Date: June 12, 2018
About the Author
Victoria Harrison is a homes and garden journalist with 14 years experience of writing for a wide range of national newspapers and consumer magazines. She was named by Decorex as one of the 100 most influential people on Twitter, has an interiors column in the Metro newspaper and regularly talks on design panels.

Debbie Powell has illustrated several books, include Make It Grow, Crave, and 101 Classic Cookbooks, and her many clients include Marks & Spencer, Papyrus, Peets Coffee, The Guardian, The Independent, and more.