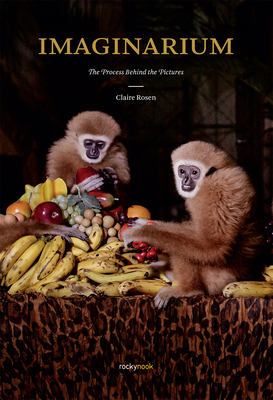 Imaginarium (Paperback)
The Process Behind the Pictures
Rocky Nook, 9781681981987, 288pp.
Publication Date: March 24, 2017
* Individual store prices may vary.
Description
Imaginarium: The Process Behind the Pictures is a compendium of practical advice and information covering the photographic process--from idea cultivation through execution. The guidance in this book is written with an understanding of the nature of artists at their core and explores the science of how ideas are born, the conditions that facilitate the productive creation of art, and the elements necessary to make creative work. This compendium is applicable across genres, for individual artists and for those working in a commercial capacity. It brings together strategies and tools to help readers generate compelling ideas and create unique images. From the simplest idea to the most fantastical, you will learn brainstorming, concept development, pre-visualization, pre-production, problem solving, and execution steps in the creative process, including practical tools and ideas for overcoming obstacles and achieving success along the way.
Contributors:
Beth Taubner Mercurylab
Alessia Glaviano Vogue Italia
Rebecca Manson The Post Office
Interviews with:
Maggie Steber, Roger Ballen, Sara Lando, Gabriela Iancu, Robin Schwartz, and Eleanor Macnair
***
Imaginarium: The Process Behind the Pictures
Table of Contents
1: ON ART
The Purpose of Art
Strong Images
Development of an Artist
Goals for Making Work
Chapter Wrap-Up
2: ARTISTIC LIFESTYLE
The Foundation
Curation of Experiences
Tapping into the Unconscious
Creative Psychology
Health
Nurturing Creativity
Community of Artists
Chapter Wrap-Up
3: TIME MANAGEMENT
Motion Versus Progress
Productivity
Motivation
Work That Fits into Your Life
Chapter Wrap-Up
4: PREVISUALIZATION
Concept Generation Triggers
Divergent Thinking
Free Association
Brainstorming
Mind Mapping
Mood Boards
Previsualization
Concept Development
Chapter Wrap-Up
5: PRODUCTION
Pre-Production
Resources and Research
Building a Team
Plan B, C, and D
On Set Checklist
Best Practices
Editing
Post-Production
Chapter Wrap-Up
6: THE VIEWER EXPERIENCE
The Viewer Experience
Presentation Considerations
Critique and Feedback
Series and Long-Term Projects
Assignments/Commissions
Body of Work: What We Leave Behind
Chapter Wrap-Up
Conclusion
Artist Interviews
About the Author
Claire Rosen is an award-winning artist whose transportive imagery uses universal themes of dreams, fairy tales, and mythology to visually symbolize the many facets of the human condition. Her elaborate tableaux constructions often feature anthropomorphic animals or solitary heroines, evoking the aesthetics and ideals of classical painting from the Pre-Raphaelite, Romantic, and Gothic periods.In 2012 and 2013, Claire earned a place on the Forbes "30 Brightest under 30" list for Art & Design. Her work has also received recognition from Aesthetica Art Prize, Communication Arts Photography Annual, International Photography Awards, Graphis, PDN Photo Annual, Photoville Fence, Photolucida Critical Mass, Prix de la Photographie, and Sony World Awards. Her work has been featured in Beautiful/Decay, Communication Arts, Complex Art+Design, Creative Quarterly Journal, Der Greif, Direct Art, Faded + Blurred, Fast Company, Feature Shoot, The Guardian UK, Hi Fructose Magazine, Juxtapoz Magazine, PDN's Emerging Photographer, Refinery29, The Rumpus, Slate Magazine, and The World Photography Organization.Claire has been exhibited from New York to Los Angeles and London to Seoul, and her work can be found in a number of public and private collections. In 2013, Claire had her first solo museum show at the the SCAD Savannah Museum of Art in Georgia. Her fine art work has been included in a number of juried group shows at Aperture Gallery, Center for Maine Contemporary Art (CMCA), Consensus, MOPLA, PhotoPlace Gallery, with four consecutive years on the public art installation Photoville Fence in Atlanta, Boston, Brooklyn, Houston, and Santa Fe.The vivid storytelling throughout Claire's work has enabled her to construct unique creative campaigns and installations for a wide range of commercial brands. From fashion labels to luxury hotels, book publishers to restaurants, Claire's portfolio of commissioned images bridges the gap between fine art and commercial work.In addition, Claire has taught workshops and lectured about the creative process and photography around the world. Claire is a brand ambassador for Dynalite, Hahnemuhle USA, and liveBooks.Claire graduated from the Savannah College of Art and Design in 2006 with a BFA in photography. She received an AA degree from Bard College at Simon's Rock in 2003.Visit author's website: www.claire-rosen.comVisit author's Instagram: @clairerosenphoto