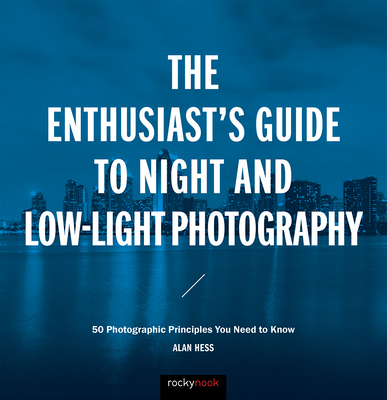 The Enthusiast's Guide to Night and Low-Light Photography (Paperback)
50 Photographic Principles You Need to Know
Rocky Nook, 9781681982427, 136pp.
Publication Date: July 10, 2017
* Individual store prices may vary.
Description
If you're a passionate photographer and you're ready to take your work to the next level, The Enthusiast's Guide book series was created just for you. Whether you're diving head first into a new topic or exploring a classic theme, Enthusiast's Guides are designed to help you quickly learn more about a topic or subject so that you can improve your photography. The Enthusiast's Guide to Night and Low-Light Photography: 49 Photographic Principles You Need to Know teaches you how to shoot compelling images at night and in low-light situations. Chapters are broken down into a series of numbered lessons, with each lesson providing what you need to improve your photography. In this book, which is divided into five chapters that include 49 photographic principles to help you create great images, photographer and author Alan Hess covers all the necessary gear and camera settings, as well as topics such as light painting, photographing the night sky, shooting great cityscapes, and post-processing techniques that will bring out the best in your photographs. Example lessons include: - 7. Using Manual exposure mode is the best way to go- 9. Focusing in low light- 21. Mounts, clamps, and other ways to keep the camera stable- 27. How high can you push the ISO?- 33. Creating low-light portraits- 37. How to get those starburst street lights- 46. Correcting the tones in your imageWritten in a friendly and approachable manner and illustrated with examples that drive home each lesson, The Enthusiast's Guide to Night and Low-Light Photography is designed to be effective and efficient, friendly and fun. Read an entire chapter at once, or read just one topic at a time. With either approach, you'll quickly learn a lot so you can head out with your camera to capture great shots.
About the Author
Alan Hess is a San Diego-based commercial photographer. He has photographed hundreds of concerts, three songs at a time. From small club shows to big arenas, Alan enjoys the fast pace of shooting on the fly, the rush of the house lights going down, and the drive to capture the "show" in the images of first three songs. 

The wide variety of bands that Alan has shot include Billy Idol, Black Eyed Peas, Bruce Hornsby, Bullet for my Valentine, Citizen Cope, The Dead, Death Cab for Cutie, Cher, John Legend, Madonna, Marilyn Manson, Robin Williams, Slayer, Steel Pulse, Widespread Panic, and Willie Nelson, just to name a few. Alan is currently the house photographer for a large concert venue in Southern California. When he isn't out shooting concerts, he is writing photography books. He is the author of more than a dozen books covering everything from concert and low light photography to the basics of exposure and composition and the Nikon Creative Lighting System. Alan has contributed to Photoshop User magazine and has been a part of the Instructor Dream Team at Photoshop World since 2009. Alan blogs regularly at www.alanhessphotography.com.