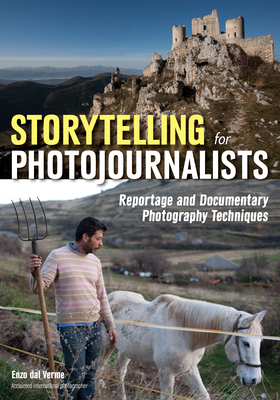 Storytelling for Photojournalists (Paperback)
Reportage and Documentary Photography Techniques
Amherst Media, 9781682030004, 128pp.
Publication Date: June 7, 2016
* Individual store prices may vary.
Description
Learn what it takes to shoot reportage--photojournalistic images--from developing an idea, to making travel plans, to gathering the requisite information about the subject/scene and locale, to packing the appropriate gear and nailing the technical aspects of the shoot. Success in photojournalism is predicated on having a firm understanding of the business. Conceiving of a suitable reportage concept and getting a technically sound image may seem a simple task for photographers well-versed in photographing other subjects, but the truth is, photojournalism requires a special skill-set and understanding of what it is that such jobs entail. In this book, you'll learn what to shoot, how to shoot it, how and where to socialize and determine cultural basics that may impact how and what you can photograph, how to get your images onto editors' desks and in front of the eyes of the wider world audience, and how to make sales. STORYTELLING PHOTOJOURNALISTS is designed to help professional photographers and inspire photography novices who want to learn how to get the most out of a shooting trip. 128 pages of shooting strategies made clear in behind-the-scenes episodes illustrated with pictures from the Enzo Dal Verme's archive.
or
Not Currently Available for Direct Purchase