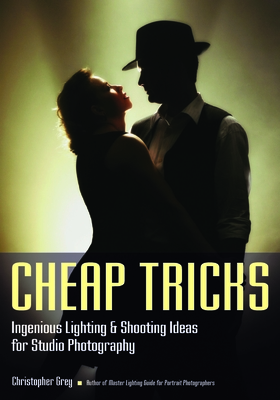 Cheap Tricks (Paperback)
Ingenious Lighting and Shooting Ideas for Studio Photography
Amherst Media, 9781682030127, 128pp.
Publication Date: April 12, 2016
* Individual store prices may vary.
Description
What do a dog leash, shower curtains, and mylar gift wrap have in common? They--along with countless other surprising everyday objects--can all be used to construct implements that will help you build your arsenal of photographic tools and accessories without breaking your budget. In this book, seasoned author, lecturer, and commercial and portrait photographer Christopher Grey shows you how to construct a host of light modifiers, from diffusers to gobos to reflectors, to snoots, to cookies; repurpose multiple elements as high-style backdrops and even build some fabulous accessories--from a lens stabilizer for low-light shots (this is where that dog leash will come in handy) to light tents for small product shots. The "hacks" in this book will inspire you to get to work, and they will amp up your creativity, but there's more. Grey shares his secrets for using your existing lighting equipment to create exquisite effects.
About the Author
Christopher Grey is a recognized world-class photographer who has written numerous physical and electronic books on lighting, posing, professional technique, and camera systems. Internationally awarded and a lifetime photographer, he's committed to teaching others everything he's learned. He's the author of the best-selling Master Lighting Guide for Portrait Photographers and others all from Amherst Media. He lives in Minneapolis, MN.