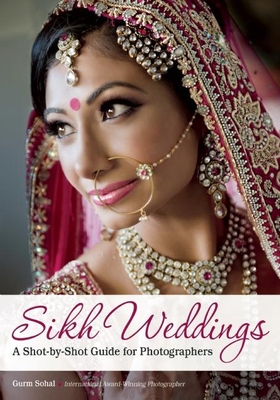 Sikh Weddings (Paperback)
A Shot-By-Shot Guide for Photographers
Amherst Media, 9781682030363, 128pp.
Publication Date: June 14, 2016
* Individual store prices may vary.
Description
Sikh weddings are vibrant, ritual-steeped events that can stretch on for days. Each wedding is unique and unforgettable. Photographing them is a joy and a challenge: there are countless facets to photograph -- and many moments seeped in meaning and tradition. Documenting can't-miss moments as they unfold requires a comprehensive understanding of the elements of the wedding, from start to finish. Sohal teaches readers the ins and outs of photographing the Sikh wedding. He offers general guidelines -- greetings to use with men versus those to use with women -- and moves on to share some pointers regarding general expectations the family will have of the photographer (e.g., never refuse food -- that would be impolite; expect to take far more family photos than you may be accustomed to). Next, he describes the major events of the wedding and explains the significance of each. With easy to digest text and gorgeous illustrations, this book is not to be missed.

About the Author
Gurm Sohal is recognized for his ability to introduce an artistic and glamorous style to Punjabi Sikh weddings. He implements lighting and posing concepts learned from his mentors and melds them into the weddings he photographs. His goal has always been to create photographs for couples that make them happy and proud. Sohal's work has been recognized in international photography competitions including Wedding Portrait Photographers International (WPPI).