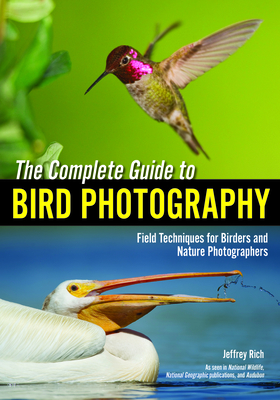 The Complete Guide to Bird Photography (Paperback)
Field Techniques for Birders and Nature Photographers
Amherst Media, 9781682030523, 128pp.
Publication Date: April 26, 2016
* Individual store prices may vary.
Description
Birding is a popular pastime, and more enthusiasts than ever are taking up the task of photographing the winged wonders they encounter in the field. In this book, author Jeffrey Rich discusses the tools you will need to increase the odds that you'll be prepared to capture technically correct, sharply focused, artful, evocative images. He also shares tips for reading bird behavior, attracting birds, and using hides to improve the odds of capturing sought-after images of even the most elusive subjects. Next, you will investigate some Lightroom and Photoshop edits you can use to make the most of your photographs. Finally, you'll find discussions on the ethics of bird photography and will read tips for making the most of your bird photography while traveling in the US and abroad, sharing your images, and using your images to educate the public and raise awareness for bird/nature conservation.
About the Author
Jeffrey Rich graduated from Humboldt State University in 1983 with a BS in Wildlife biology, in 1985 with a BS in Biology, and a life science teaching credential in 1986. In 2012 Jeff completed his master's degree in science teaching and education at the University of Texas. Jeff has been teaching science and photographing nature professionally since 1987. He is currently teaching at Stellar Charter School in Redding, CA. Jeff's love of the outdoors stem from his northern California upbringing. This enjoyment of nature, with his biology educational background has proved to be a perfect compliment in producing stunning nature photographs and teaching others about wildlife and nature photography. A self taught nature photographer Jeff considers himself more as a photo-naturalist producing artful images of mother nature. He is a wildlife and bird photography specialist with photos published in National Wildlife, National Geographic, Audubon and many other publications. Jeff has also written a number of articles about wildlife and birds. His book Baby Birds, illustrates one of his photographic passions, published by Rio Nuevo. Jeff has been teaching nature photo workshops and tours since February 1991 and these are always a great adventure with wonderful photo opportunities. He is a perfect nature photography instructor with his extensive background as a naturalist, teacher and nature photographer.
or
Not Currently Available for Direct Purchase