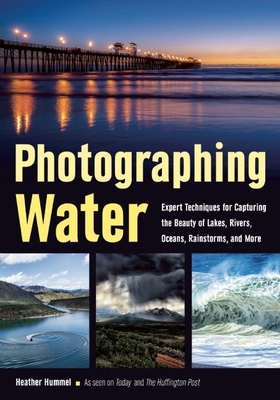 Photographing Water (Paperback)
Expert Techniques for Capturing the Beauty of Lakes, Rivers, Oceans, Rainstorms, and More
Amherst Media, 9781682030561, 128pp.
Publication Date: August 9, 2016
* Individual store prices may vary.
Description
There are 326 million cubic miles of water on earth. That makes for a ton of water photo ops In this book, author Heather Hummel shows you how to capture condensation on glass, rainbow-producing rain showers, placid swimming pools, and powerful, crashing waves. You will learn how to choose and use the best tools for the job and how to protect your gear from the elements to maximize your image-making opportunities. You'll learn how to best capture or freeze the motion of water, how to ensure a range of highlight and shadow to show texture, and how to create a feeling of dimension in your photos. You'll also learn how available light impacts the quality of the capture and how to manipulate existing light -- and add artificial light -- to ensure a good range of tones and perfect color. With these strategies, you can add a whole new dimension to your outdoor photography.

About the Author
Heather Hummel's photography spreads pixel dust on land and seascapes. Her photography has been on exhibit at Agora Gallery in the Chelsea District of New York City, C'ville Coffee in Charlottesville, VA and Valley View Hospital in Glenwood Springs, CO. She licenses her photos through ImageBrief.