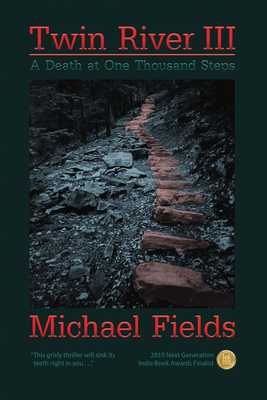 Twin River III
A Death at One Thousand Steps
Paperback

* Individual store prices may vary.
Description
The continuing saga of Twin River:

There is never a quiet moment in Twin River. Stalking and abduction are the forces that drive Twin River III in a fast and deadly pace. This is partially due to the innocence of the victims. Twin River students, Heather Wainwright and Alice Byrd, are kidnapped and forced to perform in videos. Another victim, Becky Wilson, who is pregnant, is abducted by Abel Towers. Abel has an abnormal fixation on Becky and the twins she is carrying.

Max Wright and Luther Cicconi, guards at Green Hollow Correctional Camp, do more than monitor delinquent boys. They also work for Nathaniel, who manages the video porn business in Central Pennsylvania. Nathaniel, in turn, receives financial support from Don Scavone and the Philadelphia mob.

Nathaniel has purchased an abandoned house and barn at the end of Polecat Hollow in the Twin River area. He has remodeled the barn into a luxurious video setting replete with carpeted platform, bar, sofas, and an elaborate sound stage. He has also parked four Winnebago Chieftains inside the barn. Two of the Chieftains are occupied by kidnapped teenagers and Twin River students Heather Wainwright and Alice Byrd. On this Monday, November 10, 1980, Nathaniel plans to receive his $50.000 payment from Don Scavone. He also plans to produce his first video.

Nathaniel has called his property Happy Hollow Hunt Club. It is secured by an impenetrable electric fence. Two massive hog heads are placed prominently at the entrance. The previous owners of the property, the Calvin brothers, had four hogzillas penned next to the house. They fed the hogs garbage, wild and domestic animals, and sometimes careless hunters who had wandered onto Calvin land. Two of the hogzillas run wild inside the enclosure and protect the video barn against any intruders.

Twin River High School custodian and Vietnam veteran Gene Brooks closed down Nathaniel's first video venture in Twin River. With the help of Jeffery Turner, former Penn State champion swimmer, Gene led the Pennsylvania State Police to the luxurious cabins hidden in the mountains and released the girl hostages. Vowing vengeance, Don Scavone has send soldiers Bengy and Freddy to Twin River. Their job is to waste Gene Brooks, his son Conner Brooks, and Gene's wife Lucy. Then they are to rendezvous with Nathaniel, present him with the $50,000, and proceed to the Happy Hollow Hunt Club for the first video.

After failing to complete a mob contract in Philadelphia, Wesley Palladin has fled to Twin River with Jane Romano and her son Cody. Wesley and Jane become lovers and reside in the residence of Wesley's new employer, young Matt Henry, the son of the local bank manager. After years of abuse, Matt has become a troubled and dangerous person. It is up to Palladin to help Matt come to terms with his past and settle into a normal life.

Cody Romano is also a troubled teenager. His favorite character is Catcher in the Rye's Holden Caulfield. Like Holden he is still a virgin. Cody begins a very complex relationship with the kidnapped girl Heather. In a peaceful, joyful scene that suddenly turns tragic, Cody's and Heather's fate is determined on One Thousand Steps.

Matt Henry and Jeffery Turner are the first to track the kidnapped girls to Happy Hollow Hunt Club. They enlist Cody Romano and Conner Brooks in their plan to free the girls. The four teenagers must get past wild hogs, Scavone's soldiers, and Nathaniel's men. The wild rescue scenes are exciting and deadly.

After the attack on the Happy Hollow Club, Scavone again vows revenge. He sends his best soldiers and Caesar Romano to Twin River. The final nail-biting confrontation takes place on the historic One Thousand Steps.
BookBaby, 9781682222621, 314pp.
Publication Date: January 21, 2016
or
Not Currently Available for Direct Purchase