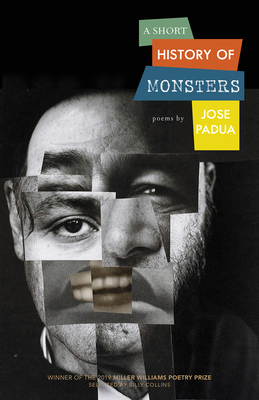 A Short History of Monsters
Poems (Miller Williams Poetry Prize)
Paperback

* Individual store prices may vary.
Description
Winner, 2019 Miller Williams Poetry Prize
"We are the happy riders on the stream of Padua's consciousness . . . a smart, sympathetic mind at work."
—Billy Collins
Drawing on the spirit of New York City in decades past, A Short History of Monsters presents the sins and obsessions of a poet nimble in beat and slam traditions. In his first full-length collection, Jose Padua wrestles with an American dream interrupted by failure, excess, and other nightmares. Often brash and unruly, these poems range from recollections of lost, drunken days to unadorned manifestations of hope. Throughout, the speaker redefines his relationship to pop culture, praising it, skewering it, and mourning it by turns.
The poems that make up A Short History of Monsters tend toward both dark humor and epiphany, diving deeply into their own despair and rising up again with existential absurdity. This is a poetry that gets down into the grit and grime of the real world, digging out a space to experience being alive as miraculous in and of itself.
Praise For A Short History of Monsters: Poems (Miller Williams Poetry Prize)…
"Padua is a very wry poet who, in his first book, presents stinging and riotous poems, as in the two-stanza 'Barbie': 'I am Barbie / I live in your dollhouse / You change my clothes every day. / If I could get out / of here I would / kill you all.' These are works that sharpen the mind on the micro, as opposed to the macro of our human experience. This debut collection was selected as winner of the 2019 Miller Williams Poetry Prize by Billy Collins, who invokes in his succinct preface the specter of Charles Bukowski, and indeed, the infamous barfly poet is echoed here, yet Padua's own dry wit and driving purpose cut through. These poems evoke not bold headlines but rather a quiet righteousness or realization. In "On These Days Driving": 'Perfection is the moment when the worst / is behind you and the best slowly reveals itself / like a song from decades ago that only now / becomes a hit.'
— Raúl Niño, Booklist, March 2019

"Jose Padua's poems sneak up on you, put a hood over your face, and drug you with their cool smooth voice. When you wake up, you're dressed in rags, and your only defense is your sense of absurdity."
—Michael Simms, Vox Populi

"The classicists insisted that to be great, a work of art had to do three things: it should instruct, amuse and move us. If we take one of Jose Padua's signature poems, 'Avenue Banana,' we can see that it meets that criteria. It tells us what life was like on the Lower East Side of NYC in the 1990s. And it is shot through with humor. Here is a line from that poem: 'I can lie back on my / mattress like a tiny buffalo / and wave my hands at the flies / in the air or on my knee.' And it moves the reader with its ending, when he references Grace Kelly and Jimmy Stewart in Rear Window. Padua maintains this high level of art throughout this collection. I highly recommend this book."
—Ron Kolm, author of A Change in the Weather

"When Jose Padua writes of 'the beauty of the moment that comes alive without artifice,' he could be describing these poems. They're dispatches from a messy life, told with wry candor. His gift to us is a lesson in seeing through the little defeats we all suffer every day for a glimpse of transcendence. In the twenty-five years I've been reading him, I never once felt he was posturing or lying to me, which is high tribute for any writer."
— John Strausbaugh, author of City of Sedition and Victory City

"A Short History of Monsters explodes like a cluster bomb of hilarious, acerbic, menacing, satirical, clear-eyed, and self-effacing poetry that uncomfortably lays bare Washington, DC poet Jose Padua's experiences growing up as a Filipino in a white world and an outsider-bohemian in an overly ambitious culture where Asians are herded "naturally" toward the sciences and away from the arts. He casts a harsh, black-humorist light on our hypocrisies, foibles, and missteps, while still managing an oddly generous manifesto that incites chuckle-groans usually associated with authors like Céline, Baudelaire, or Bukowski."
—Rain Taxi, Winter 2019/20
University of Arkansas Press, 9781682260944, 60pp.
Publication Date: March 27, 2019
About the Author
Jose Padua, a veteran of New York's spoken-word literary scene, now lives in Washington, DC. This is his first book.