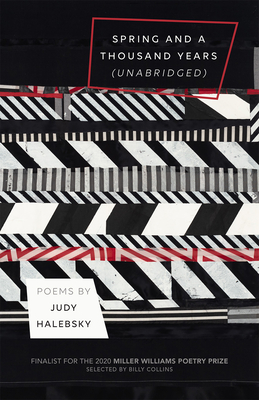 Spring and a Thousand Years (Unabridged)
Poems (Miller Williams Poetry Prize)
Paperback

* Individual store prices may vary.
Description
Finalist, 2020 Miller Williams Poetry Prize
A translator's notebook, an almanac, an ecological history, Judy Halebsky's Spring and a Thousand Years (Unabridged) moves between multiple intersections and sign systems connected in a long glossary poem that serves as the book's guide to what is lost, erased, or disrupted in transition both from experience to written word and from one language, location, and time period to another.
Writers Li Bai, Matsuo Bashō, Sei Shōnagon, and Du Fu make frequent appearances in centuries ranging from the eighth to the twenty-first, and appear in conversation with Grace Paley, Donald Hall, and Halebsky herself, as the poet explores subjects ranging from work and marriage to environmental destruction. Asking what would happen if these poets—not just their work—appeared in California, the poems slip between different geographies, syntaxes, times, and cultural frameworks.
The role of the literary translator is to bring text from one language into another, working to at once shift and retain the context of the original—from one alphabet to another, one point in time to another. These are poems in homage to translation; they rely on concepts that can bridge time and space, and as a result are as likely to find meaning in donuts or Zumba as they are to find it in the ocean. Spring and a Thousand Years (Unabridged) finds reasons for hope not in how the world should be, but in how it has always been.
Praise For Spring and a Thousand Years (Unabridged): Poems (Miller Williams Poetry Prize)…
"Halebsky likes the unleashed energy of poetry, and in the poems gathered here, she delivers."
—Billy Collins

"Under the spell of Bashō's haiku, but written in a voice entirely its own, Judy Halebsky's Spring and a Thousand Years (Unabridged) is the first book of poetry I've read in years that makes civilization look good. It makes me want to make dinner, make love, and make noise. Only a poet this generous, this wise, and this rich in language could have made this splendid thing. Read this book and you will wish you were her neighbor."
—Katy Peterson, author of A Piece of Good News

"Poet Judy Halebsky spent five years in Japan studying the theatrical and dance forms Noh and Butoh, an experience that informs her third book, Spring and a Thousand Years (Unabridged). Charming, self-effacing, and deeply reverent of Tang and Heian poetry, she offers a contemporary take on a world and world-view that flourished more than a thousand years ago. … Spring and a Thousand Years (Unabridged) is an invigorating book, offering readers not just the pleasures of the imagination but also a way to avoid the spiritual poverty which afflicts so many modern lives."
—Lee Rossi, Rain Taxi, November 2021
University of Arkansas Press, 9781682261330, 121pp.
Publication Date: March 2, 2020
About the Author
Originally from Halifax, Nova Scotia, she spent five years studying in Japan on fellowships from the Japanese Ministry of Culture. She lives in Oakland and teaches at Dominican University of California.
or
Not Currently Available for Direct Purchase