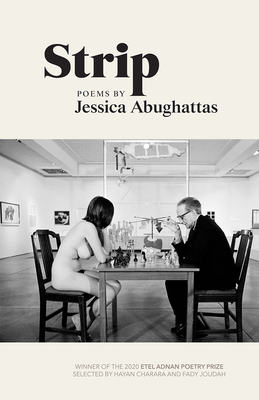 Strip
Poems (Etel Adnan Poetry Series)
Paperback

* Individual store prices may vary.
Description
Winner of the 2020 Etel Adnan Poetry Prize, Jessica Abughattas's Strip is a captivating debut about desire and dispossession and that tireless poetic metaphor—the body. Audacious and clear-eyed, plainspoken and brassy, Abughattas's poems are songs that break free from confinement as they span the globe from Hollywood to Palestine.

"The mystery that Abughattas composes is always moving toward an impossible freeing of the self from its numerous frames. Yet frame by frame . . . she suspends our disbelief, catalogs those potentialities in an America always ready to shoot, direct, and produce the film of itself. Strip is 'in love with possibility,' 'in praise of here I am, here I've been,' USA style. Strip celebrates the body—its rise and fall, ebb and flow, in a carnival of parties—restlessly, shamelessly, searching for a way out…. Even as Abughattas claims that 'I can't believe sometimes I have a body,' her poems teem with an awareness of the body's unavoidable centrality in our lives—in how we view our lives, and how others view them; in how they progress, and how they end; in how they become meaningful, and how they are stripped of meaning. And no stripping escapes memory. Whether in terms of dispossession or sexuality, admiration or pity, Abughattas renders her treatment of the body with candor and poignancy. . . . The most startling moments in Abughattas's poems, however, depend not on shocking or intimate details—but on the 'I' pulling away from the self, abandoning the ego, and gazing outward. She tries to see something else, to escape the body's restraints."
—Fady Joudah and Hayan Charara, from the Preface
Praise For Strip: Poems (Etel Adnan Poetry Series)…
"Somewhere between the sweetness of a blood orange and the crime scene it leaves behind on your fingers is Jessica Abughattas's Strip. From what I've gathered from her poems, Abughattas could walk into any dinner party or any influencer tent at Coachella and win the hearts of every single attendee. But it's Abughattas's poignant critique driven by heat, the eloquent shit-talking on the drive home, that gives Strip such momentum and audacity. These poems are my favorite flavor."
—Olivia Gatwood, author of Life of the Party

"The poems in Strip are love songs that lay bare the violences and tendernesses of the body. With striking images, with direct and penetrating language, with a strong personal voice, with humor, Jessica Abughattas explores love, lust, loneliness, the lies we tell ourselves, our 'brief astonishment.' A wonderful collection you're going to want to read in one sitting, then read again."
—Zeina Hashem Beck, author of Louder than Hearts

"Strip is a stunning debut. Any subject Jessica Abughattas writes about becomes a conundrum in the most beautiful of ways. Her poems are little apertures that open up, slant, and snap shut, all the while singing. How does her work both shatter and sing at once? A brilliant collection by a poet to watch."
—Victoria Chang, author of Obit

"Just as with the subversive anti-normalization of Shibli's dual narrative structure, and Arafat's difficult and generous reckoning with queer familial trauma, I emerge from Abughattas's Strip feeling not merely seen but understood. These works never shy away from the difficult conversations occurring within our diaspora, but instead confront them head-on and implicate the institutions of language that seek to restrict, overwrite, and disembody Palestinian memory."
—George Abraham, Public Books, January 2020
University of Arkansas Press, 9781682261484, 74pp.
Publication Date: October 16, 2020
About the Author
Jessica Abughattas, who received an MFA from Antioch University, is a Kundiman Fellow. Her work has been published in Lit Hub, Redivider, BOAAT, Muzzle, The Journal, and Tinderbox, among other publications. She lives in Los Angeles.