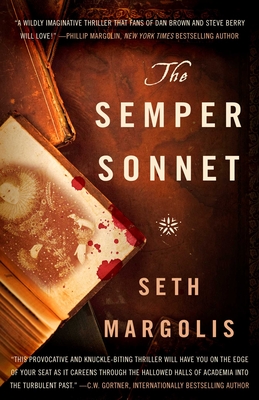 The Semper Sonnet
Paperback

* Individual store prices may vary.
Description
In this stunning thrill ride, perfect for fans of Steve Berry, a poem holds the key to unlocking the past-- and to eliminating the future. Lee Nicholson takes the academic world by storm, seemingly unearthing a never-before published sonnet by William Shakespeare. When she reads the poem on the air, her words are ignored by all but a small group of people. There are the English and literature buffs. There are the curious and those who seek out hoaxes. And there are men who will kill to keep the sonnet from every being read again. Buried in the language of the sonnet, in its allusions and wordplay, secrets have been hidden dating back to Elizabethan times, shared by the queen and her doctor, by men who seek the crown and men who seek the world. If the riddles are solved, it could explode what the world knows of the monarchy. Or, it could release a pandemic more deadly than the world has ever seen. Lee's quest keeps her one step ahead of an international hunt--from the police who want her for murder, to a group of men who will stop at nothing to end her quest, to a mad man who pursues the answers for destructive reasons of his own. Globetrotting as she pieces together what Shakespeare meant, and what he meant to leave unsaid, Lee carries this intelligent thriller through to its gasp-out-loud conclusion. "Imaginative plotting and depth of character distinguish this centuries-spanning thriller..."--Publishers Weekly "This provocative and knuckle-biting thriller will have you on the edge of your seat as it careens through the hallowed halls of academia into the turbulent past. Hold tight to your farthingales: this is a roller-coaster ride of a book "--C.W. Gortner, international bestselling author of The Last Queen
Diversion Books, 9781682300565, 374pp.
Publication Date: April 19, 2016
About the Author
Seth Margolis live with his wife in New York City and has two grown children. He received a BA in English from the University of Rochester and an MBA in marketing from New York University's Stern School of Business Administration. When not writing fiction, he is a branding consultant for a wide range of companies, primarily in the financial services, technology and pharmaceutical industries. He has written articles for the New York Times and other publications on travel and entertainment.