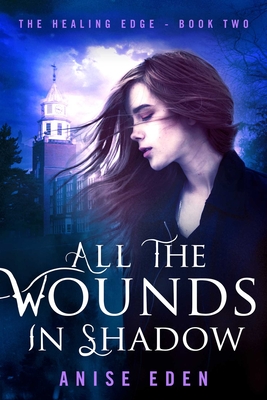 All the Wounds in Shadow
The Healing Edge - Book Two
Paperback

* Individual store prices may vary.
Description
For fans of Karen Robards and Shiloh Walker, Anise Eden brings us the mesmerizing sequel to her paranormal romantic suspense novel All the Broken Places. Peopled with engaging characters and filled with intrigue, this book will delight readers of paranormal romance. This series occupies a special place at the top of my favorites list and I can't wait to see what Ms. Eden brings us next.--Rosanna Leo, author of the Gemini Island Shifters series Cate's enemies aren't just surrounding her--they're inside her head. Therapist Cate Duncan has just accepted a job with the MacGregor Group, a unique collective of alternative healers. She's excited by the prospect of honing her empathic healing techniques among others like herself--aura readers, telepaths, crystal healers, and more. The fact that Cate just started dating Ben, her magnetic new boss, is an added bonus. Before Cate can settle into her new routine, the poisoning of a prominent neuroscientist draws the entire MacGregor Group into both a federal investigation and an even more insidious threat. Protected by Ben's former Marine Corps unit, Cate and her colleagues must use their alternative healing methods to solve the crime as their patient clings to life. The responsibility of discovering crucial information falls to Cate and her parapsychological powers. But for Cate, unraveling the mystery means reopening wounds that had just begun to heal--and in the environment of the Marine Corps unit, differences between Cate and Ben become clearer, straining their budding romance. When a new crisis looms, Cate must trust in her colleagues' gifts and the strength of Ben's love, finding the courage to confront her deepest and most terrifying demons--or her own life will be at risk.
Diversion Books, 9781682302873, 248pp.
Publication Date: August 23, 2016
About the Author
Anise Eden spends most of her time tucked away in her writing nook, imagining things that aren't there. On those rare occasions when she emerges from seclusion, Anise may be spotted in coffee shops, staring at her laptop screen and silently moving her lips as she reviews bits of dialogue. She may also be found standing in the middle of grocery store aisles, jotting down plot ideas on the back of her shopping list. Although Anise claims that she's the one in charge, the characters in her head do sometimes make her laugh out loud at inappropriate moments.
or
Not Currently Available for Direct Purchase