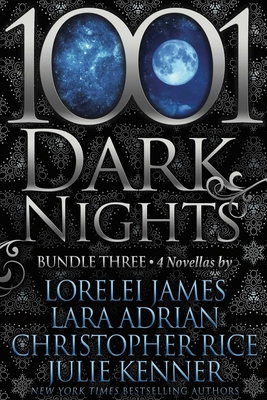 1001 Dark Nights (Paperback)
Bundle Three (1001 Dark Nights Bundle #3)
Everafter Romance, 9781682305720, 426pp.
Publication Date: May 9, 2016
* Individual store prices may vary.
Description
ROPED IN: A Blacktop Cowboys(R) Novella by Lorelei James: When World champion bulldogger Sutton Grant is sidelined by an injury, he needs help keeping his horse in competition shape. London is humiliated when her boyfriend dumps her for a rodeo queen. What's worse, she's forced to see the lovebirds on the rodeo circuit every weekend. In an attempt to save face, London agrees to assist the notoriously mild, but ruggedly handsome Sutton Grant with his horse training problem on one condition: Sutton has to pretend to be her new boyfriend. But make believe doesn't last long between the sassy cowgirl and the laid-back bulldogger. TEMPTED BY MIDNIGHT: A Midnight Breed Novella by Lara Adrian: Lazaro Archer, one of the eldest, most powerful of the Breed, is sworn to his duty as the leader of the Order's command center in Italy. When a covert mission takes a deadly wrong turn, Lazaro finds himself in the unlikely role of hero with a familiar, intriguing beauty he should not desire, but cannot resist. Melena Walsh has never forgotten the dashing Breed male who saved her life as a child. But the chivalrous hero of her past is in hard contrast to the embittered, dangerous man on whom her safety now depends. And with an unwanted--yet undeniable--desire igniting between them, Melena fears that Lazaro's protection may come at the price of her heart.... THE FLAME: A Desire Exchange Novella by Christopher Rice: Cassidy Burke has the best of both worlds, a driven and successful husband and a wild, impulsive best friend. But after a decadent Mardi Gras party, Cassidy finds both men pulling away from her. Did the three of them awaken secret desires during a split-second of alcohol-fueled passion? Or is Mardi Gras a time when rules are meant to be broken without consequence? With the strike of a match and one tiny flame, she will call forth a supernatural being with the ultimate power--the power to unchain the heart, the power to remove the fear that stands between a person and their truest desires. CARESS OF DARKNESS: A Dark Pleasures Novella by Julie Kenner: From the first moment I saw him, I knew that Rainer Engel was like no other man. Dangerously sexy and darkly mysterious, he both enticed me and terrified me. I wanted to run-to fight against the heat that was building between us--but there was nowhere to go. I needed his help as much as I needed his touch. And so help me, I knew that I would do anything he asked in order to have both. But even as our passion burned hot, the secrets in Raine's past reached out to destroy us...and we would both have to make the greatest sacrifice to find a love that would last forever. Every Dark Nights tale is breathtakingly sexy and magically romantic.
About the Author
Lorelei James is the New York Times and USA Today Bestselling Author of contemporary erotic western romances set in the modern day Wild West and also contemporary erotic romances. Lorelei's books have been nominated for and won the Romantic Times Reviewer's choice Award, as well as the CAPA Award. Lorelei lives in western South Dakota with her family...and a whole closet full of cow girl boots. From Lorelei: "Why do I have a particular fondness for all things western? Well, I'm a fourth generation South Dakotan, living in the Black Hills, which is chock-full of interesting characters, including cowboys, Indians, ranchers, and bikers. The geographical diversity of the surrounding area showcases mountains, plains, and badlands. Living in and writing about rural settings gives me a unique perspective, especially since I'm not writing historical westerns. Through my fictional world, I can show the ideals and the cowboy way of life are still very much alive."