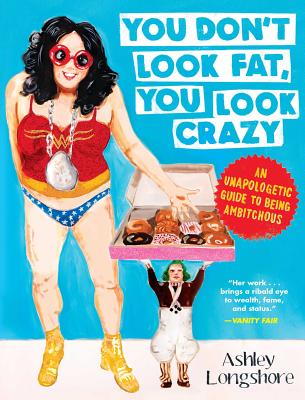 You Don't Look Fat, You Look Crazy
An Unapologetic Guide to Being Ambitchous
Hardcover

* Individual store prices may vary.
Description
"Carpe diem, bitches." —Ashley Longshore

Pour a glass of champagne, slip off your designer heels, pull up your big girl panties and enjoy pop-artist extraordinaire Ashley Longshore's unapologetic, raw, and literally laugh-out-loud funny guide to living an "ambitchous" life.

For Ashley Longshore, the path from reluctant Southern Belle to badass artist and aspiring mogul hasn't always been a smooth one. As a reformed Trophy-Wife-in-Training, Ashley has overcome failure, healed heartbreak, and worked damn hard, all with her signature killer attitude, to conquer the art world one glittery pop-art masterpiece at a time.

You Don't Look Fat, You Look Crazy is a window into the world of Longshore's irreverent, glamorous, and stunningly visual pop-art-filled life, where bedazzled flowers sit next to diamonds and Valium boxes, Jesus holds a black Amex and Wonder Woman dresses in Chanel. With tongue-in-cheek advice straight from her canvas, such as "There's No Crying At Bergdorf's," "Always Ask For More," and "What Would Blue Ivy Do," Ashley's honesty and DGAF attitude will grab you by your Givenchy lapels and hit you across the face with the donut you promised yourself you wouldn't eat.

So be confident, grab life by the Birkins, embrace your "ambitchion," and remember, you don't look fat—you look crazy!
Regan Arts., 9781682450444, 160pp.
Publication Date: February 7, 2017
About the Author
Ashley Longshore's pop art paintings are never shy of daring. A prolific artist at a pivotal moment in her career, Ashley has been compared to Andy Warhol for her obsession with pop culture figures and brands as well as her relationships with celebrities. She has had major collaborations with brands such as Clé de Peau and Anthropologie and has emblazoned the path for pop art and fashion to coexist. Her work has been featured in magazines in both the United States and countries around the world including Switzerland, Belgium, Japan, and Australia, where collectors have begun to acquire her unique pieces—described by Blake Lively as "elegant yet rebellious." She lives in New Orleans, home to the Ashley Longshore Studio Gallery.