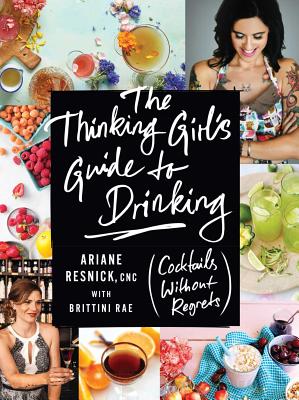 The Thinking Girl's Guide to Drinking
(Cocktails without Regrets)
Paperback

* Individual store prices may vary.
Description
This edgy cocktail book includes more than 100 recipes for delicious alcoholic drinks and mocktails that are made from quality, healthful ingredients and include healing properties with nutritional benefits to keep you feeling sexy, healthy, and fabulous.

The Thinking Girl's Guide to Drinking is all about showing you how you can, and should, enjoy drinking healthfully. Author Ariane Resnick wants to wipe away the notion that drinking healthfully has to mean downing glasses of green smoothies and juices and otherwise starving yourself. Sure, detox drinks have a time and a place, but there's no need to suffer and live without the things you love. The key to drinking cocktails when you're trying to be mindful is drinking in moderation and using wholefoods and high-quality ingredients that both taste delicious and have health value and nutritional benefits. Some of the healing ingredients include:

—Lemons and limes: nutritional powerhouses of liver detoxification that lower the cholesterol and also happen to pair well with nearly any alcohol;
—Kombucha: the sparkling probiotic beverage that provides good bacteria for your gut and comes in a million mixable flavors;
—Fresh ginger: a powerful anti-inflammatory that is great for reducing nausea and lowering blood sugar;
—Coconut cream: to help our brains and our metabolisms;
—Herbs and spices: include antibacterial and antiviral properties and are high in B-vitamins;
—Green juices: full of extra vitamins and nutrients;
—Mint: known for its calming effects on the digestive and nervous systems and keeping tummies content;
—Kava: a medically-proven anxiety-relieving root that's known for its calming, relaxing, therapeutic effects, and other restorative properties.
—And more!
Praise For The Thinking Girl's Guide to Drinking: (Cocktails without Regrets)…
"In The Thinking Girl's Guide to Drinking (Cocktails Without Regrets), author Ariane Resnick lays out how to make fairly easy cocktails made with wholesome, quality ingredients that taste delicious but also have nutritional benefits."

—Cosmopolitan

"Our delicious (yet still diet-friendly) solution: Mix up a Cozy Fire—a sweet yet healthy sip from celebrity chef Ariane Resnick's new book, The Thinking Girl's Guide to Drinking: Cocktails Without Regrets."

—Health Magazine

"What's the opposite of a hangover? Whatever it is, we're aiming for it thanks to Ariane Resnick, certified nutritionist, author of The Bone Broth Miracle and now The Thinking Girl's Guide to Drinking."

—The Chalkboard Mag

". . . bless Ariane Resnick, CNC, and her new book, The Thinking Girl's Guide To Drinking, for proving that sipping healthfully and getting tipsy aren't mutually exclusive."

—Well + Good NYC

"You two should open a bar if you don't have one, because I would come enjoy these cocktails any time. These are absolutely wonderful."

—Dr. Travis Stork, CBS' "The Doctors"

"For your foodie friend who shops by the nutritional value instead of what's on sale, she's sure to go wild for this recipe book that brings together health and booze."

—Class Pass

"This is how drinks would taste if the Garden of Eden had a bar."

—Jeff Franklin, creator of Full House and Fuller House

"Sexy drinks, delicious photography—I'm thinking that The Thinking Girl's Guide to Drinking isn't just for girls!"

—Tristan Stephenson, author of The Curious Bartender series

"As a longtime proponent of fresh ingredients and creative combinations, it's easy to get behind these festive libations that focus on a healthy approach to quality. These thinking ladies are raising the bar for professionals and home entertainers everywhere!"

—Natalie Bovis, founder of The Liquid Muse and author of Edible Cocktails

"As a doctor and a nutritionist, I love how Ariane is changing the way we think about drinking. Her fabulous cocktails prove that with the right ingredients, we can transform happy hour into a fun and healthy time. It's a seriously smart message delivered with a big dose of humor. Salud!"

— Dr. Kellyann Petrucci, New York Times bestselling author of Dr. Kellyann's Bone Broth Diet and DrKellyann.com and host of the Public Television Special "21 Days to a Slimmer, Younger You"

"I'm a big advocate for making healthy foods delicious and fun. Ariane took the concept from a healthy girl's kitchen into the bar, because let's be real: Who doesn't enjoy a good cocktail? The result is a book full of colorful, exciting cocktail recipes with awesome ingredients like beet juice, ginger, and dragon fruit. I'm inspired to up my cocktail game!"

—Ksenia Avdulova, founder of Breakfast Criminals

"In The Thinking Girl's Guide to Drinking, Ariane Resnick serves up delicious, inventive cocktails with benefits. Beautifully photographed, this book is chock-full of healthy libations for any mood that strikes you. Cheers to Ariane for bringing health back to the party!"

—Heather Dane, health coach and bestselling co-author of Loving Yourself to Great Health and The Bone Broth Secret

"The diversity of drinks that Ariane serves up is a testament to the fact that women today don't have a 'type' of drink and that they're willing to try anything. With this book, Ariane is helping to drive a stake in the heart of those sugary, electric-colored, 'girly' cocktails of yesteryear."

—Ann R. Tuennerman, founder of Tales of the Cocktail

"If you want to have a drink and feel great when you're done, it's possible; Ariane tells you how."

—Dave Asprey, creator of Bulletproof Coffee and New York Times bestselling author of The Bulletproof Diet

"Ariane Resnick masterfully combines a healthy mindset and a celebratory attitude in her must-have new book: The Thinking Girl's Guide To Drinking. What a vibrant, creative, and undeniably fun collection of libations!"

—Julie Morris, New York Times bestselling author of Superfood Smoothies and Superfood Soups
Regan Arts., 9781682450482, 272pp.
Publication Date: November 1, 2016
About the Author
Ariane Resnick, CNC is a private chef and certified nutritionist who specializes in organic farm-to-table cuisine and creates indulgent, seemingly "normal" food out of impeccably clean, whole food ingredients. She is the author of the best-selling The Bone Broth Miracle and and has been featured in Forbes, Well + Good NYC, In Style, Star, Goop.com, Food.com, Huffington Post, Refinery29.com, Muscle & Fitness, Men's Fitness, and Food Network's Chopped. Resnick regularly consults with clients and chefs on wellness and nutrition. She lives in West Hollywood, CA.

Brittini Rae is the 2015 National Speed Rack Champion and has been called "the best female bartender in America" by Elle and the "#3 National Top Bartender" by the Daily Meal. She has won the Luxardo Cup and the L.A. Pavan Sangria Challenge and has been featured in Elle, Imbibe, L.A. Magazine, BarBiz Mag, Liquor.com, and Grub Street, among others. She lives in Los Angeles, CA.
or
Not Currently Available for Direct Purchase