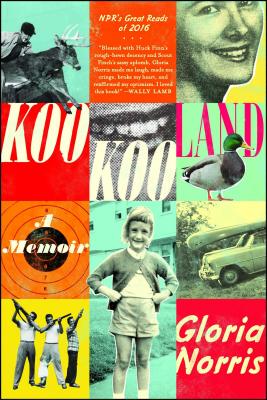 KooKooLand
A Memoir
Paperback

* Individual store prices may vary.
Other Editions of This Title:
MP3 CD (9/20/2016)
Hardcover (1/5/2016)
Description
Gloria Norris's KooKooLand is a memoir written on the edge of a knife blade. Chilling, intensely moving, and darkly funny, it cuts to the heart and soul of a troubled American family, and announces the arrival of a startlingly original voice.

Gloria Norris grew up in the projects of Manchester, New Hampshire with her parents, her sister, Virginia, and her cat, Sylvester. A snapshot might show a happy, young family, but only a dummkopf would buy that.

Nine-year-old Gloria is gutsy and wisecracking. Her father, Jimmy, all dazzle and danger, is often on the far side of the law and makes his own rules—which everyone else better follow. Gloria's mom, Shirley, tries not to rock the boat, Virginia unwisely defies Jimmy, and Gloria fashions herself into his sidekick—the son he never had.

Jimmy takes Gloria everywhere. Hunting, to the racetrack, to slasher movies, and to his parents' dingy bar—a hole in the wall with pickled eggs and pickled alkies. But it is at Hank Piasecny's gun shop that Gloria meets the person who will change her life. While Hank and Jimmy trade good-humored insults, Gloria comes under the spell of Hank's college-age daughter, Susan. Brilliant, pretty, kind, and ambitious, Susan is everything Gloria longs to be—and can be, provided she dreams big and aces third grade like Susan tells her to.

But, one night, a brutal act changes the course of all their lives. The story that unfolds is a profound portrait of how violence echoes through a family, and through a community. From the tragedy, Gloria finds a way to carve out a future on her own terms and ends up just where she wants to be. Gripping and unforgettable, KooKooLand is a triumph.
Praise For KooKooLand: A Memoir…
NPR's Great Reads of 2016

"Dad's a petty criminal whose insults land like punches to the psyche. Mom's an enabler who endures her husband's shenanigans with the help of highballs. Yet their daughter Gloria—blessed with Huck Finn's rough-hewn decency and Scout Finch's sassy aplomb—survives, triumps, and, in Kookooland, bears witness to an amazing if challenging childhood. Norris's memoir made me laugh, made me cringe, broke my heart, and reaffirmed my optimism. I loved this book!"

—Wally Lamb, New York Times bestselling author of She's Come Undone

"Kookooland is a truly original memoir, dealing with some pretty horrific things with deft humor and a big heart. Gloria Norris has a terrific voice, telling her story from the point of view of the smart, brave kid she must have been. With cinematic urgency, Norris conveys the strange truth that love, fear and hate for a father can live side by side, and that's why violence can endure in families. I raced through this book, heart thumping and breaking simultaneously."

—Julie Salamon, author of The Devil's Candy and Wendy and the Lost Boys

"By turns heartbreaking and darkly humorous, the book not only offers a compelling yet comic portrayal of a fraught father-daughter relationship. Norris also reveals the way violence can become a self-replicating cancer within families. An intelligent and bracing memoir."

—Kirkus Reviews

"For anyone who might suppose that a New Hampshire childhood was about tapping maple trees and picking apples, here comes the dark side. I could not have dreamed up a family like the one Gloria Norris brings to life on these pages : crazy, funny, terrifying—or a childhood more filled with confusing contradiction. The brilliance of her story is that she somehow survived the violence that might have destroyed her to give us this dazzling, funhouse ride of a memoir. When you emerge, you may want to run away fast. Or buy another ticket and go back inside."

—Joyce Maynard, author of Labor Day and Under the Influence

"Although many vibrant characters populate this chilling memoir, Norris' re-creation of her early 1960s nine-year-old self is a spot-on treat and a terror. A tumble through a tumultuous time, in which the heroine inexplicably, beautifully lands on her feet."

—Booklist

"An electrifying coming-of-age memoir about madness, murder, and a born storyteller's wild ride from a terrorized girlhood in nowheresville New Hampshire to life as a Hollywood producer and screenwriter."

—O, The Oprah Magazine
Regan Arts., 9781682450789, 368pp.
Publication Date: March 14, 2017
About the Author
Gloria Norris was raised in a tightknit Greek family. She attended Bennington College and graduated from Sarah Lawrence College. She began her career in New York as an assistant to film directors Brian De Palma, Martin Scorsese, and Woody Allen. Since relocating to Los Angeles, she has worked as a screenwriter, with assignments that have taken her from Paris to the Amazon. As an independent producer, her films have premiered at the Sundance, Toronto, and Tribeca Film festivals.