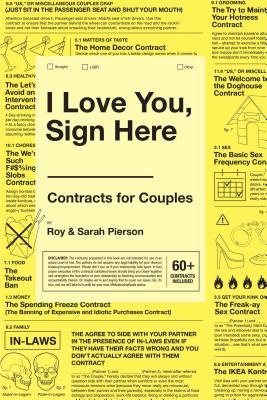 I Love You, Sign Here
Contracts for Couples
Paperback

* Individual store prices may vary.
Description
The first-ever book of contracts for couples to help navigate the troubled waters of love, sex, money, in-laws, and IKEA.

Everyone signs prenups, but now there's an encyclopedia of contracts for every bump in the road and occasion for potential conflict in your relationship. With over 60 hilarious, totally realistic contracts, I Love You, Sign Here is the essential book for couples (young, old, married, living together, haven't really had "the talk") to navigate every possible scenario they could possibly face in their lives together, from money and sex, to in-laws and home décor, including:

—"The Banning of Expensive and Idiotic Purchases Contract"
—"The But We Just Saw Them Contract"
—"The Netflix and Not Kill Each Other Contract"
—"The Porn Contract"
—"The Shit Nobody Wants To Go To But Is Forced To Go To Anyway Contract"
—"The IKEA Køntråkt"
—"The Skip Fighting Over Where To Eat And Go Directly To Shake Shack Contract"
—"The Stop Being So Relaxed about Your Stupid Career / Get a Real Job / You're Not Going to Make It as an Artist Contract"
—"The Try to Maintain your Hotness Contract"

And many more including contracts on your in-laws, family, breeding, pet peeves, chores, home decor, and your exes!

(DISCLAIMER: The contracts presented in this book are not intended for use in an actual court of law. The authors do not assume any legal liability for your divorce/breakup/imprisonment. Proper execution of the contracts should bring you closer together and strengthen the foundation of your relationship by fostering communication and accountability. . . and we will take full credit for your new #RelationshipGoals status.)
Regan Arts., 9781682450901, 128pp.
Publication Date: November 14, 2017
About the Author
Roy Pierson is a comedian, playwright, "wantrapreneur" and every Seinfeld character rolled into one. He has had his works performed and published and has several groundbreaking inventions in the works, or so he claims.

Sarah Pierson has worked as a designer in book publishing for over ten years. Her work includes losing and mishandling artwork, art contracts, and invoices. They live in Arizona with their son R.J., their cats Desi and Molly, and upwards of fourteen white noise machines (two functional).
or
Not Currently Available for Direct Purchase