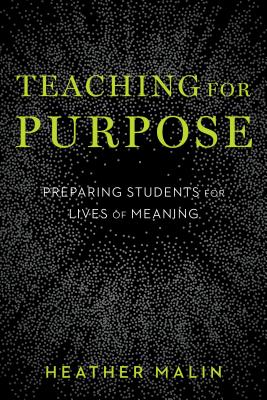 Teaching for Purpose
Preparing Students for Lives of Meaning
Paperback

* Individual store prices may vary.
Description
In Teaching for Purpose, Heather Malin explores the idea of purpose as the purpose of education and shows how educators can prepare youth to live intentional, fulfilling lives. The book highlights the important role that purpose--defined as "a future-directed goal that is personally meaningful and aimed at contributing to something larger than the self"--plays in optimal youth development and in motivating students to promote the cognitive and noncognitive skills that teachers want to instill. Based on a decade of research conducted at the Stanford University Center on Adolescence, the book explores how educators and schools can promote purpose through attention to school culture, curriculum, project learning, service learning, and other opportunities. Malin argues for expansive thinking on the direction schools should take, especially in terms of educating students to be creative, innovative, and self-directed critical thinkers. The book includes profiles of six organizations working in schools across the US that have made purpose development a priority. Infused with the engaging voices of purposeful youth, Teaching for Purpose offers a fresh, inspirational guide for educators who are looking for new ways to support students to succeed not only in school, but in life.
Harvard Education PR, 9781682532577, 280pp.
Publication Date: October 16, 2018
About the Author
Heather Malin is the director of research at the Stanford University Center on Adolescence, where she conducts research on diverse aspects of purpose development. She has published articles in academic journals on adolescent purpose development, youth civic engagement, artistic development, and purpose among young entrepreneurs. Her career in developmental psychology and education spans over twenty years, during which she taught elementary school, taught art to children through community-based programs, provided professional development programs for teachers, evaluated art education in Alameda County and academic programs provided by nonprofit organizations, and was an instructor for the Stanford Teacher Education Program (STEP), where she taught art education to preservice teachers and served as a new teacher mentor. She holds a PhD from Stanford Graduate School of Education and an MA from Teachers College Columbia University, and she received her BA from Sarah Lawrence College.
or
Not Currently Available for Direct Purchase