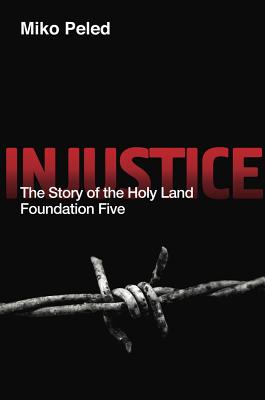 Injustice (Paperback)
The Story of the Holy Land Foundation Five
Just World Books, 9781682570852, 224pp.
Publication Date: February 15, 2018
* Individual store prices may vary.
Description
In July 2004, federal agents raided the homes of five Palestinian-American families, arresting the five dads. The first trial of the "Holy Land Foundation Five" ended in a hung jury. The second, marked by highly questionable procedures, resulted in very lengthy sentences—for "supporting terrorism" by donating to charities that the U.S. government itself and other respected international agencies had long worked with. In 2013, human rights activist and author Miko Peled started investigating this case. He discussed the miscarriages of justice with the men's lawyers and heard from the men's families about the devastating effects the case had on their lives. He also traveled to the remote federal prison complexes where the men were held to conduct deep interviews. Injustice traces the labyrinthine course of this case, presenting a terrifying picture of governmental over-reach in post-9/11 America.
About the Author
Miko Peled is a writer and peace activist born and raised in Jerusalem. His first book The General's Son: Journey of an Israeli in Palestine (Just World Books, 2nd edition 2016) has been translated into eight other languages. Born into a prominent Zionist family, Peled emerged as a strong and outspoken advocate of justice and equality in Palestine. He currently speaks around the United States and internationally on the issue of Palestine/Israel.

Praise For Injustice: The Story of the Holy Land Foundation Five…
"There are few books on the Israel/Palestine issue that seem as hopeful to me as this one." —Alice Walker, Pulitzer Prize-winning author 
"This critically important memoir . . . is a must-read." —Naomi Wolf, author, social critic, political activist
"This is a brilliantly rendered father and son saga amidst a background that evokes Greek mythology. The father was an Israeli hero in the fight for independence and the subsequent wars that led to Israeli dominance, and a brutal occupation. The father and son difficulties can never escape the bigger picture. This is a story of admiration—and anger." —Sy Hersh
"The story of Miko Peled, his mother and father, reveals how facts, compassion and a universal sense of justice took hold and inspires this energetic and informed voice for peace." —Ralph Nader
"Injustice is a must-read book for anyone who wants to know how after 9/11, the US criminal justice system has been undermined and become another tool utilized by the pro-Israeli camp to silence and intimidate Palestinian Americans." —Prof. Dr. Sami A. Al-Arian, Director and Public Affairs Professor, Center for Islam and Global Affairs, İslam ve Küresel İlişkiler Merkezi
"Miko is a dedicated storyteller who approaches the difficult and complex Holy Land Foundation case in a sensitive, careful, and methodical manner while doing so with a humanistic focus on the impacted families. Injustice is a must-read." —Dr. Hatem Bazian, U.C. Berkeley and Zaytuna College
"This book is a compelling and moving account of the lives and trials of the Holy Land Foundation Five. It makes a convincing case that these 5 men are paying with long prison sentences for the 9/11 attacks, which they had nothing to do with." —Louise Cainkar, author, Homeland Insecurity: The Arab American and Muslim American Experience after 9/11
"Miko Peled tells the riveting story of a grave miscarriage of justice against the Holy Land Five . . . A must-read for all who seek the truth about how the US and Israel work hand-in-glove to oppress the Palestinians." —Marjorie Cohn, Professor Emerita, Thomas Jefferson School of Law
"Miko Peled's book conveys the humanity of the HLF5 and their families, and should be read widely and shared liberally to help support an international campaign for their freedom." —Michael Deutsch, human rights lawyer, People's Law Office, Chicago, IL; co-author, Secrets and Lies: the Persecution of Muhammad Salah; defense counsel for Muhammad Salah, Abdelhalem Ashqar, and Rasmea Odeh
"Miko Peled shines a light on one of the most egregious cases of injustice committed to date against Muslim leaders in the United States . . . His book is an ominous and important warning about the degradation of the rule of law and civil liberties that increasingly characterizes American society." —Chris Hedges, Pulitzer prize-winning journalist and former Middle East Bureau Chief, the New York Times