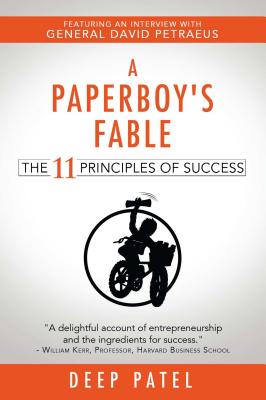 A Paperboy's Fable
The 11 Principles of Success
Paperback

* Individual store prices may vary.
Description
A young man learns that there is more to being successful than the bottom line.

A Paperboy's Fable is a concise, entertaining fable that makes revolutionary points using age old principles. Whether someone is opening a lemonade stand or leading a startup software company, the 11 Principles of Success make A Paperboy's Fable a timeless tale that is as fresh as it is universal.

A Paperboy's Fable also features interviews with many professors, entrepreneurs, CEO's and General David Petraeus.
Praise For A Paperboy's Fable: The 11 Principles of Success…
"This straightforward yet insightful book will shoot directly from Mr. Patel's heart and into yours. At once a solid business book and inspirational fairytale, it could be read by anyone interested in entrepreneurship, self-help and personal growth."



— MeiMei Fox, New York Times bestselling author

"...this entertaining book is ingenious; the cleverly devised tale depicts a business at its most basic level, dramatizing how even a paperboy can use proven strategies, skills, and techniques to grow a thriving enterprise."
— Kirkus Reviews

"Deep is wise beyond his years! A Paperboy's Fable is a hidden gem full of rich entrepreneurial insight that only somebody like Deep could tell in an enjoyable and educational format. I highly recommend this book to anybody with the entrepreneurial itch!"
— Jeff Boss, Forbes and Entrepreneur contributor, author of Navigating Chaos and former Navy SEAL

"Prescient and insightful well beyond his years, Deep Patel provides a delightful account of entrepreneurship and the ingredients for success. Budding entrepreneurs and experienced veterans alike will learn and be inspired from the story of Ty Chandler and the lessons embedded therein."
— William Kerr, Professor at Harvard Business School and Faculty Chair of the Launching New Ventures program for Executive Education

"A Paperboy's Fable epitomizes Warren Buffett's investment philosophy. It is an inspirational, entertaining and educational read."
— Seeking Alpha

"A Paperboy's Fable is a great book for entrepreneurs of all ages. It is a fun read and packed with valuable insights."
— Derek Lidow, Global CEO, Professor at Princeton University and author of Startup Leadership

"What Deep Patel has to say, on the basis of his research, interviews and reflections, is a true inspiration for millennials—and well worth pondering."
— The Huffington Post

"A Paperboy's Fable is a fun read. I was rooting for Ty Chandler as he made his way from opportunity to success. The bonus is a set of lessons for every entrepreneur."
— Sanjay Parthasarathy, former executive at Microsoft; CEO of Indix
Post Hill Press, 9781682610046, 160pp.
Publication Date: June 7, 2016
About the Author
Deep Patel is a young writer and entrepreneur. He wrote A Paperboy's Fable as an homage to his father who, at the age of sixteen, was a paperboy in Boston, Massachusetts.

Patel is an active philanthropic contributor in his community. Committed to making sure all children get a chance to learn and flourish, he plays a vital role in The Mentors Project, which has received recognition from the governor of Georgia for advocating literacy and tutoring underprivileged children.