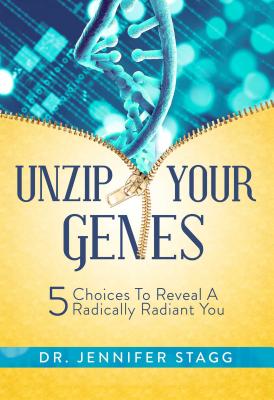 Unzip Your Genes
5 Choices to Reveal a Radically Radiant You
Hardcover

* Individual store prices may vary.
Other Editions of This Title:
Paperback (2/13/2018)
MP3 CD (5/21/2019)
Compact Disc (5/21/2019)
Description
Your genes don't have to be your destiny. Now you can take charge of your genes and your health.

Unzip Your Genes will show you how take your own health into your own hands. You will no longer sit on the sidelines—instead you can play an active and empowered role in the state of your own health.

In this book you will:

• Understand how the environment and your genes interact.
• Learn how to use your own genetic information to your advantage.
• Create an actionable plan based on your genomics to radically transform your health and improve your vitality.
• Discover how to improve your health span and lead a productive, happy and healthy life.

Dr. Jennifer Stagg is an experienced physician and expert in Precision Medicine—an emerging approach for disease prevention that takes into account an individual's genes, environment, and lifestyle. In Unzip Your Genes Dr. Stagg provides insight on how you can take practical steps that can radically transform the state of your health and well-being.
Praise For Unzip Your Genes: 5 Choices to Reveal a Radically Radiant You…
"Fascinating, eye-opening, informative!

'Unzip Your Genes' is a must-read for anyone looking to live a happier, healthier life.

Dr. Jennifer Stagg takes her expertise in precision lifestyle medicine to a new level by allowing readers to understand how their bodies truly work from the inside out."


— Keisha Grant, TV News Anchor

"Your individuality extends well beyond your outward appearance. It includes differences in the minute details of your cellular functions, those that ultimately determine 'how' you 'are': how you function (at the cellular level), how you behave (your likes, dislikes, executive functions, your neurochemical pathways) and how you survive and adapt to your environment.

Your genetic legacy, or genome – the sum total of genetic material passed down through generations and ultimately inherited from your parents – is key to understanding your individuality.

As modern science continues to explore the marvels of the human genome, we are learning that the lines between nature (that which you inherit) and nurture (that which you develop through your environment) are less distinct than once thought.

Your genetic make-up not only defines who you are, but how you interact and react to your environment.

Dr. Stagg's new book captures in a lucid and compelling manner, what so many before her have been unable to do: Explaining why genetics have an important role in the everyday discourse of health and wellbeing, while striking an admirable balance between simplicity and scientific accuracy. Dr Stagg introduces genetics in a manner that is so much more relevant than just disease diagnostics – genetics that helps us to better understand ourselves as human beings. I highly recommend Dr. Stagg's, 'Unzip your Genes' for anyone interested in the dynamic and interactive role that individualized genetics play in one's health and wellbeing (within the framework of one's environment). I suspect that after reading her book, many will be inspired to begin their own personalized journey to optimized health."
— Dr. Mansoor Mohammed, PhD, Founder and President, ManageneDx, Innovative Lifestyle Genomics, Health-focused Personalized Medicine

"In the confusing and often daunting world of Nutrigenomics, Jennifer Stagg has come up with a guide to understand and conquer this arena in practical and effective ways. Unzip Your Genes is a wonderful start to a whole new you by unlocking your potential."
— Christopher Keroack, MD, Author, Speaker, and Medical Consultant in Lifestyle and Functional Medicine

"When Dr. Stagg first shared with me the title of her new book, some months ago, I thought, wow, that is a tantalizing title (one of the best I have ever seen). So when my esteemed colleague asked me to review her book, Unzip Your Genes, I was curious to learn if the content could live up to its title. After starting this book, (and not being able to put it down) I must say, this book delivered! Dr. Stagg's book could not be timelier! We live in an era where the biggest cause of death and chronic disease is lifestyle induced and thus preventable!

Every doctor advises their patients to eat better, exercise more and stress less. As a result, we have more gyms than ever, we spend more on diets than ever and yet we have a runaway epidemic of obesity and diabetes, which spurs the top two killers in the country, namely cardiovascular disease and cancer. So the question is, why are these simple strategies are not working?

The answers are uncovered within the pages of Unzip Your Genes. Dr Stagg eloquently lays out the argument for the necessity for targeted, true Health Care. Or as she describes, "Precision lifestyle medicine."

This book should be required reading for any health care provider who is, not just interesting in defeating disease, but in the promotion of wellness!

Good work Dr. Stagg, I enthusiastically and emphatically endorse your book!"
— Dr. Douglas A. DiSiena, DC, FICA, CNS, QME, Distinguished Fellow of the ICA, Bestselling co-author of Possibility Living

"Dr. Stagg wrote a comprehensive book that is an essential read for every generation! She created an amazing precision program to truly unlock your health and create a lifetime of wellness."
— Dr. Pina LoGiudice, ND, LAc, Author, The Little Book of Healthy Beauty

"At a time that we are so confused about how to be healthy, Dr. Jennifer Stagg makes it so simple and practical with her new book, Unzip Your Genes. This is a must read for everyone!"
— Dr. Fabrizio Mancini, Speaker and best selling author of The Power of Self-Healing

"Unzip Your Genes is a must-read for anyone interested in health, wellness, longevity, and weight loss. The more aware we are about our genetics the better we can understand ourselves. Knowing that there is an "SNP for that," helps to give us better control of our individual idiosyncrasies as they relate to our lifestyle habits. And, as such, enables us to better improve our health. Dr. Stagg elucidates how personalized medicine with genetics as the basis, is the future for creating a more enhanced and healthier you."
— Dr. Keoni Teta, Author of The Metabolic Effect Diet and Lose Weight Here
Savio Republic, 9781682610343, 256pp.
Publication Date: November 15, 2016
About the Author
Dr. Jennifer Stagg has always been passionate about science and health and started out as a doctoral student in Biochemistry at the University of Iowa. However, she left the field of research to pursue a career as a physician so that she could work directly with patients to help them improve their health. Dr. Stagg graduated with a doctorate in Naturopathic Medicine from Bastyr University in Seattle, Washington. She is a naturopathic physician and owner of the integrative specialty practice, Whole Health Associates, LLC. Dr. Stagg is a well known expert in precision medicine and regularly appears in the media. She has been featured on NBC, ABC and CBS. She is also an educator for other physicians and a public speaker on optimal health and wellness. She continues to see patients, conducts clinical research studies and trains physicians in personalized lifestyle medicine at her private practice in Connecticut. Dr. Stagg is happily married with three wonderful children, and has a deep understanding of the demands of today's family lifestyle.
or
Not Currently Available for Direct Purchase