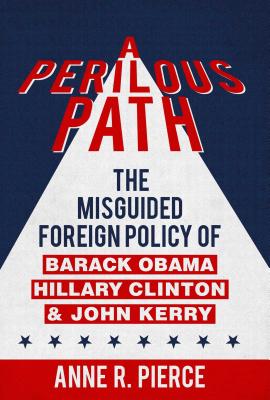 A Perilous Path (Hardcover)
The Misguided Foreign Policy of Barack Obama, Hillary Clinton and John Kerry
Post Hill Press, 9781682610589, 352pp.
Publication Date: July 5, 2016
Other Editions of This Title:
Paperback (1/8/2019)
* Individual store prices may vary.
Description
Exposing the moral and strategic deficits of the Obama, Clinton and Kerry approach to world affairs, A Perilous Path takes a close look at American history, while at the same time providing fresh, thought-provoking analysis. It calls for renewal of the best American foreign policy traditions, which emphasize "peace through strength" and human rights.

Anne R. Pierce tells the fascinating story of Obama administration foreign policy and illustrates its disturbing consequences. She shows that President Obama and his Secretaries of State expended more effort in improving relations with dictatorships than in strengthening ties with democracies or encouraging ideas of freedom. With meticulous research, Pierce documents the administration's decisions and discusses its worldview. She reveals vital information regarding Hillary Clinton's tenure as Secretary of State, providing a cautionary account of what we can expect from a Clinton presidency. Whoever becomes president, A Perilous Path offers a moral and strategic compass for both policymakers and the public.

A Perilous Path will make a substantial contribution to the discussion about America's proper role in the world. This book is a must read for everyone concerned about the current state of the world, and interested in charting a better course.
About the Author
Anne R. Pierce is an author, commentator and scholar in the areas of American Presidents, American Foreign Policy and American Society. Her foreign policy work emphasizes both national security and global stability, and human rights and political freedom. With a Ph.D. from the University of Chicago, she is an appointed member of Princeton University's James Madison Society and a Political Science Field Editor for Transaction Publishers. Pierce has written three books, and contributed to three others. Her articles have been published in in USA Today, The Washington Times, Society, Washington Examiner, USEmbassy.gov, Ricochet.com, World and I and elsewhere.
or
Not Currently Available for Direct Purchase