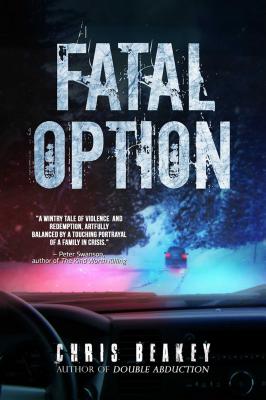 Fatal Option
Hardcover

* Individual store prices may vary.
Other Editions of This Title:
Paperback (2/13/2018)
Description
A tragic accident. A family in crisis. And a killer watching every move.

Five months after the mysterious death of his wife, Stephen Porter is pulled from a dreamless sleep by a midnight phone call. His 17-year-old daughter Sara is stranded in a blizzard near the top of a mountain beyond their suburban home. She's terrified and unable to stop crying as she begs him to come to her rescue.

Unfortunately Stephen went to bed just an hour before after a night of binge drinking. With his blurred vision and unsteady balance he knows it's dangerously irresponsible to get behind the wheel. But he heads out into the snowstorm to bring Sara home.

High school teacher Kieran O'Shea is also behind the wheel, searching for his autistic younger brother Aidan, who is wandering aimlessly through the storm on that same mountain. Kieran is terrified—of the voices in his mind, that Aidan will be taken from him, and that he may soon be arrested for murdering three women.

In a matter of minutes Stephen will encounter Kieran and drive headlong into a collision that will force him to unlock the secret of his wife's death, avoid prosecution, and protect his children from violence that hits all too close to home.
Praise For Fatal Option…
"The tension starts high in this novel . . . Beakey parallels his thriller plot with an engaging family drama . . . it's all packaged within a taut narrative . . . a character-driven tale that maintains its sincerity, even in its most nerve-wracking moments."
— Kirkus Reviews

"A wintry tale of violence and redemption, artfully balanced by a touching portrayal of a family in crisis."
— Peter Swanson, author of THE KIND WORTH KILLING

"Emotionally visceral. The violence and action sequences really gripped me and I loved the strength of the teenage girl, Sara. I loved the ending too. What subtlety! There's a sense of the world restored but not quite. Not sugar-coated and not expected either. Completely real."
— Jordan Dane, bestselling author and recipient of Publisher's Weekly Best Book and Readers' Choice Awards

"A story about the devastating moral consequences of a dangerous choice. Relentlessly suspenseful, with brisk pacing and intrigue on every page."
— Norb Vonnegut, bestselling author of Top Producer and The Trust

"Fatal Option grabs you from the first page as a complex tale about a family in crisis and murder. Plan to stay up late."
— Kathleen Antrim, Co-President, International Thriller Writers and author of Capital Offense

"A sharp, intelligent thriller . . . Really top notch."
— Neely Tucker, author of Only the Hunted Run

"Fatal Option is a stylish and nerve-shredding thriller about a split-second decision and a family thrown into turmoil."
— Doug Johnstone, Author of "Crash Land", "Hit and Run", and "The Jump"

"This is quite a riveting novel that explores the decisions made my family members and how they influence other people . . . very believable and full of real-life characters."
— Breakaway Reviewers

"Read this page-turner, and see if you figure it out. Fatal Option is ripe with turns and twists and more than one unsavory character."
— Forsyth Woman Magazine

"Just, Wow. This book - dark, twisty, and unpredictable!"
— A Page to Turn reviews

"This was haunting and heart pounding. Exciting and gut clenching and an all around dark yet fun read for me as a thriller lover. I thought that it was refreshingly well written told with a unique voice and one that I can't wait to hear more from."
— Turing the Pages reviews

"Make sure you have a lot of day left before you start reading this book. You will not be able to put it down."
— Debbie Krenzer, Book Review Blog

"Hang on to your seats, people! This is a fast-paced, wild ride from the very first page . . . This book is written so tightly that I did not want to stop reading until I was done."
— Anne Loves Books Review Blog

"What a thrilling mystery! A one-session read because you just can't stop! Author Chris Beakey introduces multiple tangled plot lines, admirably maintains all, and leavens them with a sizable dose of humanity: emotions, mistakes, failings, success, regrets. My heart stayed in my throat the entire reading."
— The Haunted Reading Room

"Every time that I thought I had an idea of where the author was going with the story, there was a new twist . . . an intense thriller that has a lot going on and will keep you guessing until the end."
— Stephanie's Book Reviews

"If you think you can dissect a thriller and beat the author to the finish, you need to pick up Fatal Option by Chris Beakey! The tale is taut, dark and sinister from the first page to the last. Magnetic, dynamic and extremely well-written, Suspense has a new artist on the block and a bold style to mesmerize readers."
— Tome Tender Book Reviews
Post Hill Press, 9781682611548, 304pp.
Publication Date: February 21, 2017
About the Author
Chris Beakey tells stories of good people caught in bad places. He writes fiction from his homes in Washington, D.C. and Lewes, Delaware, as well as nonfiction as a ghostwriter for an organization that promotes bipartisan policies that strengthen the nation through smart investments in youth. His first, novel, Double Abduction, was a finalist for the Lambda Literary Award.
or
Not Currently Available for Direct Purchase