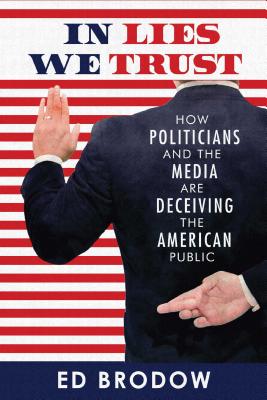 In Lies We Trust
How Politicians and the Media Are Deceiving the American Public
Paperback

* Individual store prices may vary.
Description
What politicians and the media don't want you to know.

Millions of Americans at both ends of the political spectrum are angry and fed up with being lied to by politicians and the media. The emergence of "outsider" presidential candidates Donald Trump and Bernie Sanders is proof that people are sick and tired of Washington's culture of deception.

Thumbing his nose at political correctness, negotiation expert and political commentator Ed Brodow exposes the outrageous lies that have been disseminated about the most important issues of our time. He tells the uncensored truth about the threat of Islamic extremism, global warming, the welfare entitlement system, Obamacare, racial tension and other important things that our elected representatives don't want you to know. If you vote in national elections, the candor of In Lies We Trust will help you make decisions based on facts instead of misinformation.
Praise For In Lies We Trust: How Politicians and the Media Are Deceiving the American Public…
"At last: someone who tells the truth. In America today, the media and political elites are lying to the public on a routine basis and a massive scale. Ed Brodow's In Lies We Trust is a welcome antidote. Buy it for all your friends who believe that ISIS has nothing to do with Islam, that the greatest threat our nation faces today is climate change, that government-run health care is free, and all the other lies we're expected to buy into on a regular basis."
— Pamela Geller, author, The Post-American Presidency: The Obama Administration's War on America
Post Hill Press, 9781682612033, 288pp.
Publication Date: September 27, 2016
About the Author
Ed Brodow is one of the world's leading negotiation experts and a staunch advocate of critical thinking. SEC Chairman Harvey Pitt dubbed him "The King of Negotiators." Forbes Magazine agreed, ranking Ed as one of the nation's top dealmakers. He is the author of six books, including the business classic, Negotiation Boot Camp: How to Resolve Conflict, Satisfy Customers, and Make Better Deals. For two decades, Ed's acclaimed Negotiation Boot Camp® seminars have set the standard for "how to make a deal" in Corporate America.

A nationally recognized television personality, Ed has appeared as negotiation guru on PBS, ABC National News, Fox News, Fortune Business Report, and Inside Edition. He is negotiation consultant to some of the world's most prominent organizations, including Microsoft, Goldman Sachs, Learjet, Ritz-Carlton, Starbucks, McKinsey, Philips, Zurich Insurance, the IRS, the GSA, and the Pentagon. As a keynote speaker, Ed has enthralled more than 1,000 audiences in Paris, Milan, Athens, Singapore, Tokyo, Bangkok, Sao Paulo, Bogota, and New York with his charismatic stage presence, infectious humor, and practical ideas. In previous lives, Ed was a U.S. Marine Corps officer, corporate sales executive, and Hollywood movie actor.
or
Not Currently Available for Direct Purchase