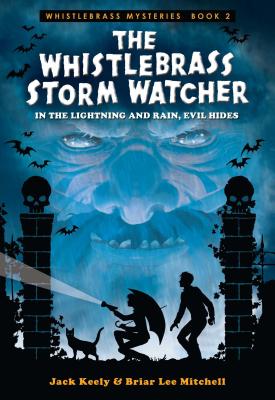 The Whistlebrass Storm Watcher (Whistlebrass Mysteries #2)
Paperback

* Individual store prices may vary.
Description
Torrential storms unearth strange Viking artifacts, drawing a wicked entity to Whistlebrass.

Mudslides unleashed by the torrential rains have revealed an archeological oddity—a Viking village on the banks of Lake Wanweird. Young Casey Wilde's excitement about the discovery soon turns to alarm when his friend appears with a Viking artifact and wild story about an axe-wielding monster.

In the blink of an eye, Casey finds himself in the center of an ancient feud—and lives are stake. With the fate of his friends hanging in the balance, Casey must solve a mystery surrounding a Viking king, a colonial ghost, a carnival fortune teller, and a calculating cat named Carlisle.

And it looks like another storm is on its way.
Permuted Press, 9781682612682, 272pp.
Publication Date: October 25, 2016
About the Author
Jack Keely is the co-author and illustrator of "The Whistlebrass Horror" and "The Whistlebrass Storm Watcher". He and Briar Lee Mitchell are currently at work on the third book in the series. The books are aimed at young teens, but adult readers also enjoy the slightly tongue-in-cheek Whistlebrass blend of horror and humor.

Jack Keely received his bachelor's degree in illustration at Rhode Island School of Design, and obtained his master's degree at Cranbrook Academy of Art.

He co-authored "The Outer Space Place" and "The Dinosaur Store" with Sylvia Branzei. He also illustrated many of Sylvia's books including the best-selling "Grossology" series. In addition, Jack has illustrated many other books by different authors.

Briar Lee Mitchell co-authored The Whistlebrass Horror with Jack Keely. She is the author of the popular novels, Big Ass Shark and Dark Lights. She has travelled with the U.S. Air Force creating images for the National Archives. Briar's stay at McMurdo Base in the Antarctic inspired her series Walking on Mars. She has worked for such clients as Warner Brothers and Disney, and her work has been exhibited at The Smithsonian Institution. Briar hosts a talk show at www.artistfirst.com where she interviews authors, musicians, and other creative people.