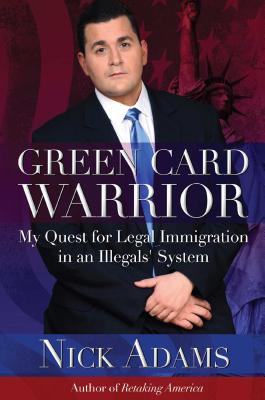 Green Card Warrior: My Quest for Legal Immigration in an Illegals' System (Paperback)
My Quest for Legal Immigration in an Illegals' System
Post Hill Press, 9781682613054, 112pp.
Publication Date: November 1, 2016
Description
The story of how one man took on the state department--and won. "Green Card Warrior is a must read." - President Donald Trump Nick Adams had it all: charisma, energy, a promising TV career, a new organization and an approved Green Card petition. The world was at his feet. Then came the unexpected sabotage and political persecution from one individual. It began a spiral of destruction - finances, family, health and career. He almost lost it all. Green Card Warrior is an explosive and startling expose into the world of legal immigration and what many must endure to come to America. Rising conservative star Nick Adams reveals how he was persecuted by the Obama Administration, and offers an incisive critique of the immigration system - both legal and illegal. This eye-opening account shows how the Obama Administration has broken new ground in its intimidation and harassment of political opponents, now using its State Department to screen and select immigrants based on their politics. In Green Card Warrior, Adams recounts his personal tale, setting it against the larger story of the broken legal immigration system, and unfairness of illegal immigration in America today.
About the Author
Nick Adams is the Founder and Executive Director of FLAG, The Foundation for Liberty and American Greatness (www.flagusa.org). He is an internationally renowned speaker, lecturer, author and commentator. He is best known for his work in the field of American exceptionalism and is credited with fueling a resurgence in the idea worldwide. He is a Fellow of Colorado Christian University. He contributes to numerous media organizations and has received several state awards, including honorary citizenship, as well as being recognized for "extraordinary ability" by the U.S Government. Adams holds degrees in Media and Communications, Government and International Relations, Germanic Studies, and Education from the University of Sydney. In 2005, at the age of twenty one, he was elected as the youngest deputy mayor in Australian history, a record he still holds to this day.
Advertisement