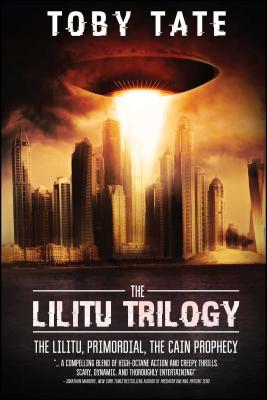 The Lilitu Trilogy (Paperback)
The Lilitu, Primordial, the Cain Prophecy
Permuted Press, 9781682613214, 496pp.
Publication Date: September 26, 2017
* Individual store prices may vary.
Description
The ancient race of the Lilitu have risen to destroy mankind--and only Gabrielle "Gabe" Lincoln can stop them.
CIA operative Gabrielle "Gabe" Lincoln has been tracking the beast once known as Lilith MacIntyre and her organization ever since she and her unborn child were taken into custody and held at a top secret facility. Gabe soon finds that most in the organization are Lilitu, a race of beings as old as time that may have once dominated the galaxy itself. This is an omnibus edition of all three books in Toby Tate's The Lilitu Series. The Lilitu CIA Operative Gabe Lincoln has to stop the Lilitu from advancing their agenda. If she does not succeed humanity may soon be facing not only the loss of its place as the planet's dominant species, but its utter annihilation. Primordial Gabe must investigate towering black obelisks that have appeared in five different locations around the world. She fears they may be far more sinister than anything the world has seen before. Humanity is about to be plunged into a living nightmare from which there is no escape. The Cain Prophecy Far out in the desert, a superhuman assassin known only as Cain is using blood money to finance the excavation of an artifact as old as the earth itself. CIA operative Gabrielle "Gabe" Lincoln has a very short time to learn the secret of Cain's power--or soon the earth and everyone in it will be annihilated.

About the Author
Toby has been a writer since about the age of 12. Inexplicably drawn to all things dark and macabre, he began penning short stories and publishing his own movie monster magazine. An Air Force brat who never lived in one place more than five years, Toby joined the Navy soon after high school and ended up on the east coast of the U.S. He has since worked as a cab driver, a pizza delivery man, a phone solicitor, a shipyard technician, a government contractor, a retail music salesman, a bookseller, a cell phone salesman and a recording studio engineer. After earning his English degree, he became a full-time graphic designer and newspaper reporter for five years and published hundreds of stories with the Associated Press and his local paper. He has since been published in The Pedestal Magazine, Voluted Tales magazine, Famous Monsters of Filmland, Scary Monsters Magazine, and websites like eHow.com. Owing to the inspiration of Edgar Rice Burroughs, Ray Bradbury and Stephen King, Toby became an author of what he likes to call "high-octane sci-fi, fantasy and horror" and has published several books. Toby is also a songwriter and musician and lives with his family near the Great Dismal Swamp in northeastern North Carolina.