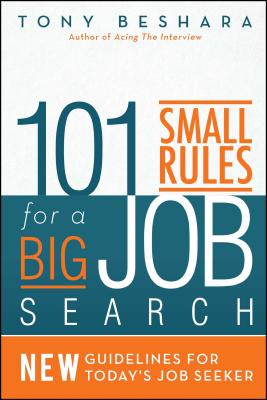 101 Small Rules for a Big Job Search
New Guidelines for Today's Job Seeker
Paperback

* Individual store prices may vary.
Description
From America's #1 placement and recruitment specialist and the author of the successful Acing the Interview comes a set of simple rules to help you land a job in the 21st-century world of today's market.



In 101 Small Rules for a Big Job Search, Tony Beshara, the employment expert Dr. Phil called "the best of the best," provides the perfect roadmap to a successful job search. In it you'll discover:

• How to deal with the emotional strain of looking for a job

• What's the very first thing you should do

• How to set job-search goals

• The reason for affirmations.

• The little disciplines that make a big difference

• How to deal with the difficult job market

• Taking massive action

• Social media: Friend and enemy

• How to make the best use of LinkedIn

• Online job searches

• Resume Dos and Don'ts

• How to get an interview

• Flawless interview techniques

• The worst places to interview

• The worst times to interview

• How to determine your "risk factors"

• Ways to deal with rejection

• How to get a job offer

• The right way to resign

• How to start your new job

Tony Beshara shows you how to get started and get the job you want!
Savio Republic, 9781682613689, 192pp.
Publication Date: August 1, 2017
About the Author
Tony Beshara is the owner and president of Babich & Associates, established in 1952, which is the oldest placement and recruitment service in Texas. It is one of the top contingency placement firms in the DFW area as recognized by the Dallas-Ft. Worth Business Journal.

Tony is in the trenches daily. A professional recruiter since 1973, Tony has personally found more than 11,000 jobs for individuals, has personally interviewed more than 26,000 people on all professional levels, and has worked with more than 23,000 hiring authorities. Babich & Associates has helped more than 100,000 people find jobs using Tony's proven process. Tony Beshara is one of the most successful placement and recruitment professionals in the United States.

Tony received his Ph.D. in Higher Education from St. Louis University. He is a published author of several titles, including:

The Job Search Solution: The Ultimate System for Finding a Great job NOW! The second edition of this bestselling book published January 2012.

ACING The Interview, another bestseller, answers almost any question regarding interviewing in today's erratic job market.

Powerful Phrases for Successful Interviews, published February 2014, offers 400 ideal phases for every interviewing situation.

100,000 Successful Hires, The Art, Science and Luck of Successful Hiring, co-authored with Rich Lavinski, covers the "other side" of the desk—advice for the hiring authority. It, too, is a bestseller.

Tony Beshara is a frequent guest on the Dr. Phil show, offering Dr. Phil's guests advice on the job search process, as well as on The Willis Report televised on Fox Business. He has created a 45-hour online program about how to find a job, found at www.TheJobSearchSolution.com. Tony hosts a daily radio show, "The Job Search Solution" on KVCE, 1160 AM, Monday through Friday from 8 to 8:30 pm. Tony and his beautiful wife of 47 years have four sons.
or
Not Currently Available for Direct Purchase