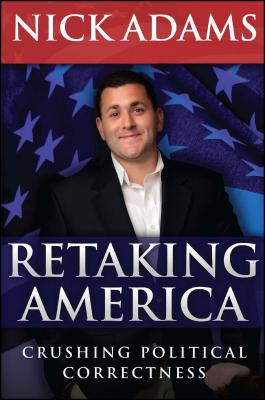 Retaking America (Paperback)
Crushing Political Correctness
Post Hill Press, 9781682614211, 256pp.
Publication Date: April 11, 2017
* Individual store prices may vary.
Description
Political correctness must be crushed—and only America can do it.

As Tweeted by President Trump

Political correctness has ripped through America, turning life, liberty and the pursuit of happiness into lifelessness, suppression and the pursuit of mediocrity. In support of political correctness, sneering columnists are seeking out opinions they don't like and punishing them, speakers are being canceled on college campuses and people are being vilified for exercising their religious liberty.

Meanwhile, Europe is in its death throes, completely infected by the political correctness disease.

Australian Nick Adams believes only America has the cure. But the race is on. Will America be able to save itself in time, and lead a stunning turnaround–or will it succumb to a European fate?

With creativity, flair and his trademark wit, Australian Nick Adams deftly exposes why political correctness is behind every problem in America today, and why it is every American's patriotic duty to defy politically correct mandates. He explains Americans face a momentous choice in this election year, and lays out a roadmap for an American renaissance.
About the Author
Nick Adams is a best-selling author, columnist and commentator.

He has appeared on virtually every major television and radio program, including The O'Reilly Factor, Fox & Friends, The Sean Hannity Show, The Laura Ingraham Show, The Hugh Hewitt Show, The Glenn Beck Program, 700 Club, The Dennis Prager Show, and hundreds more. He is a columnist for Townhall.com and Townhall Finance. He also serves as a Centennial Institute Policy Fellow at Colorado Christian University.

His work has been published in newspapers around the world such as The Washington Examiner and The Korea Times, and online at Fox News, Daily Caller, Breitbart, The Blaze, Jewish World Review and elsewhere. Gov. Rick Perry appointed him an Honorary Texan in 2013.

Adams' acclaimed book, The American Boomerang, was endorsed by The National Review, The Heritage Foundation, The Washington Examiner and The Dartmouth Review. Individual endorsements include Gov. Mike Huckabee, Chuck Norris, Dr Ben Carson, Glenn Beck, Dick Morris, and Col. Allen West.

He has spoken at conventions, corporate meetings, military bases, universities, high schools and churches in the United States. Abroad, he has given major addresses in several countries, including England, Germany and South Korea.