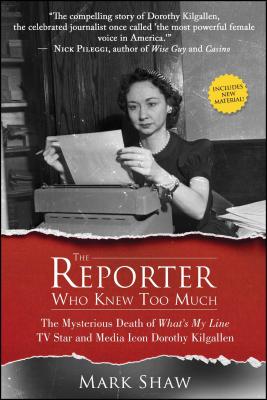 The Reporter Who Knew Too Much (Paperback)
The Mysterious Death of What's My Line TV Star and Media Icon Dorothy Kilgallen
Post Hill Press, 9781682614433, 352pp.
Publication Date: October 24, 2017
Other Editions of This Title:
Hardcover (12/6/2016)
MP3 CD (12/6/2016)
Compact Disc (12/6/2016)
Compact Disc (12/6/2016)
* Individual store prices may vary.
Description
Was What's My Line TV Star, media icon, and crack investigative reporter and journalist Dorothy Kilgallen murdered for writing a tell-all book about the JFK assassination? If so, is the main suspect in her death still at large?

These questions and more are answered in former CNN, ESPN, and USA Today legal analyst Mark Shaw's 25th book, The Reporter Who Knew Too Much. Through discovery of never-before-seen videotaped eyewitness interviews with those closest to Kilgallen and secret government documents, Shaw unfolds a "whodunit" murder mystery featuring suspects including Frank Sinatra, J. Edgar Hoover, Mafia Don Carlos Marcello and a "Mystery Man" who may have silenced Kilgallen. All while by presenting through Kilgallen's eyes the most compelling evidence about the JFK assassinations since the House Select Committee on Assassination's investigation in the 1970s.

Called by the New York Post, "the most powerful female voice in America," and by acclaimed author Mark Lane the "the only serious journalist in America who was concerned with who killed John Kennedy and getting all of the facts about the assassination," Kilgallen's official cause of death reported as an overdose of barbiturates combined with alcohol, has always been suspect since no investigation occurred despite the death scene having been staged. Shaw proves Kilgallen, a remarkable woman who broke the "glass ceiling" before the term became fashionable, was denied the justice she deserved, that is until now.

More about the book may be learned at thereporterwhoknewtoomuch.com or thedorothykilgallenstory.org.
About the Author
A former criminal defense attorney specializing in murder cases and the author of 25+ books, Mark Shaw was a legal analyst for USA Today, CNN, and ESPN during the Mike Tyson, O.J. Simpson and Kobe Bryant cases. In 2014 and 2015, he appeared on the REELZ Channel providing legal commentary for two Specials including "The Kennedys."

Mr. Shaw, a San Francisco-based attorney, is best known for exposing the truth about important historical matters in his controversial books including Down For the Count (Mike Tyson Trial), Miscarriage of Justice (spy Jonathan Pollard), Melvin Belli (Jack Ruby's attorney), and The Poison Patriach (JFK assassination). Vanity Fair's James Wolcott called the latter, "Daring: Shaw points the bony finger of recrimination at JFK's father," Kirkus Reviews said it was "a clearly written polemic on the corruption of power built around an intriguing theory," and The New Yorker proclaimed the book, "Ominous." The author's ability to defend his theories is possible through YouTube video footage of his debating bestselling author Robert Tanenbaum about the JFK assassination. To date, more than 25,000 hits have been recorded.

Mark began his media career as an on-air television personality for ABCs Good Morning America, CBS's People, and ESPN. He is married to Santa Clara University librarian Wen-ying Lu. More about Mark is available at www.markshawbooks.com and Wikipedia.