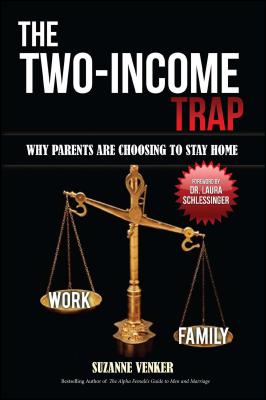 The Two-Income Trap (Paperback)
Why Parents Are Choosing to Stay Home
Post Hill Press, 9781682614785, 160pp.
Publication Date: June 6, 2017
* Individual store prices may vary.
Description
Dispelling our most cherished myths about work-family balance, Suzanne Venker argues in The Two-Income Trap that women who want to get married and have children will find their home lives less chaotic and far more satisfying by making motherhood, not career, their primary focus.

The premise of The Two-Income Trap: Why Parents Are Choosing to Stay Home is that childrearing is no longer recognized for the enormous undertaking it is. 'Having it all' is an impossible goal for anyone, male or female. The needs of children don't allow two married parents the freedom to dedicate themselves fully to something else.

That isn't a bad thing, says Venker. It's a good thing.

It's time to shift our paradigm. There is value in pursuing both work and family; but prioritizing family over career, and being realistic with one's goals, is the only way women can be successful at both. The ?Two-Income Trap does two things: helps elevates the status of parents at home, and helps mothers who want to be employed create a life that works.

Without the stress. Without the guilt. Without regret.
About the Author
SUZANNE VENKER is an author, speaker, and nationally recognized expert on America's current gender war. She's a Fox news contributor and a columnist at PJ Media.

Suzanne's bestselling e-book, The War on Men, was fashioned from her article of the same name that became the #1 op-ed in Fox News history. The result was a barrage of media backlash and an appearance on The View, where Suzanne enjoyed friendly banter with guest host Mike Tyson while fielding attacks from Whoopi and Joy.

Suzanne's most recent book, The Alpha Female's Guide to Men and Marriage: HOW LOVE WORKS (February 2017), helps women with domineering personalities learn how to love a man. Her other books include The Two-Income Trap, How to Choose a Husband, and The Flipside of Feminism.

Suzanne has written for many publications including Time, Parents, New York Post, and the St. Louis Post-Dispatch. She has also been featured in The Wall Street Journal as well as Newsweek, The Atlantic, The Economist, The Huffington Post, and London's Daily Mail.

Suzanne's TV credits include The View, Fox & Friends, ABC News, CNN, C-Span's Book TV, and more. She has appeared on hundreds of radio shows throughout the country, and her work has been featured on The Dr. Laura Program, The Late Show with Stephen Colbert, and The Rush Limbaugh Show.

Suzanne graduated from Boston University in 1986. Today she lives in St. Louis, Missouri, with her husband of 18 years and their two teenagers.