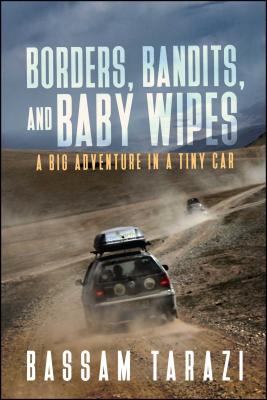 Borders, Bandits, and Baby Wipes
A Big Adventure in a Tiny Car
Paperback

* Individual store prices may vary.
Description
Bassam Tarazi scaled Mt. Kilimanjaro, trekked to Everest, navigated New Zealand's Grand Traverse, and hiked in Patagonia—but it wasn't enough.

Inspired and challenged by his quests of "getting there," Bassam Tarazi and two friends signed on for the infamous Mongol Rally, a nearly 10,000-mile road trip from London to Mongolia through terrain that would make a mountain goat's knees buckle, in a vehicle that was little more than a go-kart.

Borders, Bandits, and Baby Wipes is Tarazi's incredible tale of what comes with life on the go and off the map. It's a dive into cultures and cop cars, big thoughts and meltdowns, and what it means to be human while covered in a constant sheen of awe and grime.

Borders, Bandits, and Baby Wipes is a story about the kind of adventures we all said we'd have one day but never do. It's about a world beyond our expectations, and our place in it.
Praise For Borders, Bandits, and Baby Wipes: A Big Adventure in a Tiny Car…
"A hilarious, tireless, and courageous look into what it is to be a modern-day explorer on the adventure of a lifetime. Bassam has an uncanny ability to put you right there in the moment with him, as if you were sitting shotgun."
— Michael Kirtley, National Geographic, Time, Newsweek

"Bassam Tarazi's real-life adventure ignites the explorer in all of us by showing us parts of the world most of us haven't even dreamed of seeing, and parts of ourselves we're dying to discover."
— Ben Polansky, co-founder of Matador Network

"Wow! I couldn't put it down. Bassam Tarazi has given us an incredible, riveting, adventure with a unique human insight."
— Derek Sivers, author of Anything You Want, founder of CD Baby

"What a ride! With entrepreneurial spirit, a philosopher's mind and the wit of a comic, Bassam Tarazi delivers a mighty jolt of global immersion and adventure."
— Beri Meric, founder & CEO of IVY, The Social University

"A pure pleasure to read. Tarazi has written an ode to the explorer that reminds us why we travel in the first place. He illuminates all the beauty, frustration, wisdom and bonding that comes with trading our comfort zones for the inside of a rickety car in a foreign land."
— Antonio Neves, author of 50 Ways to Excel in Your First Job (And in Life)

Bassam Tarazi takes the readers on a page-turning adventure few will ever get to experience in one lifetime, let alone many."
— Matt Stabile, founder of The Expeditioner

"Bassam pushes the boundaries of what you think you know about our world, cultures and adventure—and leaves you wide-eyed and invigorated by his experiences."
— Katie Quinn, video journalist, creator of qkatie

"Enthralling and inspiring. It's like Bill Bryson meets Cannonball Run. Tarazi's travel opus is a must-read because it reminds us why we choose to go into the great unknown in the first place."
— Ryan Van Duzer, Adventure Journalist

"It's a good old-fashioned quest through foreign lands mixed in with the self-discovery and immersion that only life on the open road can bring. One part adventure mixed with one part philosophy, this is a must-read for all those who love to explore, or those who wish they could."
— Mario Schulzke, Founder of IdeaMensch
Post Hill Press, 9781682614815, 352pp.
Publication Date: January 9, 2018
About the Author
American-born Bassam Tarazi is half Palestinian and half Dutch. He is the founder of Colipera, a motivational blog, and an author, speaker, and international traveler. A wanderer at heart, Tarazi founded the Nomading Film Festival, has traveled to 7 continents and 72 countries, and is always looking for his next adventure. When he's not traveling or advising companies on change management, he's enjoying time with his wife in Portland, OR. Connect with him at tarazb@gmail.com.
or
Not Currently Available for Direct Purchase